Reporting
Ahmadiyya Children Growing Up Away from Home
Ahmadi children suffer from persecution, but hold no grudges. They want to grow up to become doctors and pilots.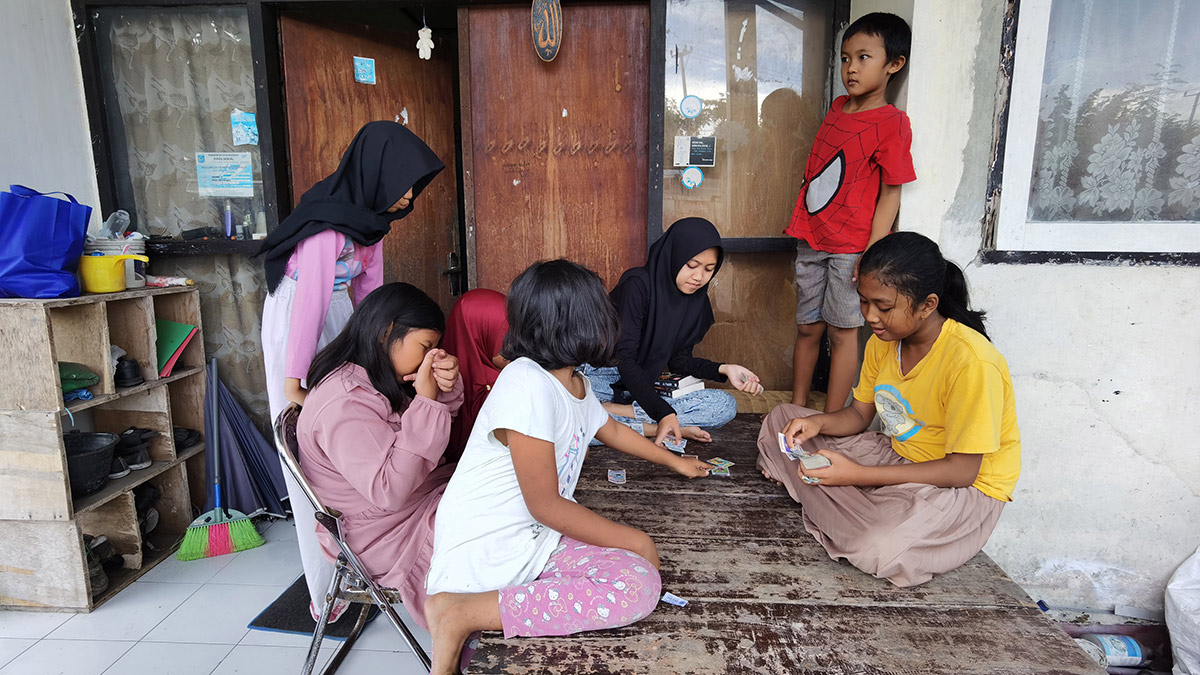 Children at the Transito Dormitory in Mataram, West Nusa Tenggara, November 27, 2022. TEMPO/Purwani Diyah Prabandari‬ . tempo : 168236382469_9874999
IDAYATUN Rasna, 30, still vividly recalls a bloody incident that occurred in Sambik Elen, Bayan subdistrict, North Lombok Regency, West Nusa Tenggara, in 2002. At that time, she was still in the fourth grade. This eldest child of Syahidin and Senah was playing with her friends when the attack took place. "We ran to the field and hid. We were afraid," she said when met at the Transito Dormitory in Majeluk, City of Mataram, West Nusa Tenggara, at the end of last November. "We saw houses being destroyed." 
Eventually security personnel took them to the Bayan Subdistrict Office for temporary refuge. After that, they were taken to the City of Mataram and put up at the home of M. Sobri, a Jemaat Ahmadiyah Indonesia (JAI—Indonesia Ahmadiyya Congregation) member. 
But her problems were not over. When Syahidin and family members moved to Sumbawa, this woman who now works as a domestic worker had to separate from her parents and stay with Sobri. It was not until Syahidin returned, on account of being kicked out of Sumbawa, that Idayatun was reunited with her family in Central Lombok. However, this did not last long.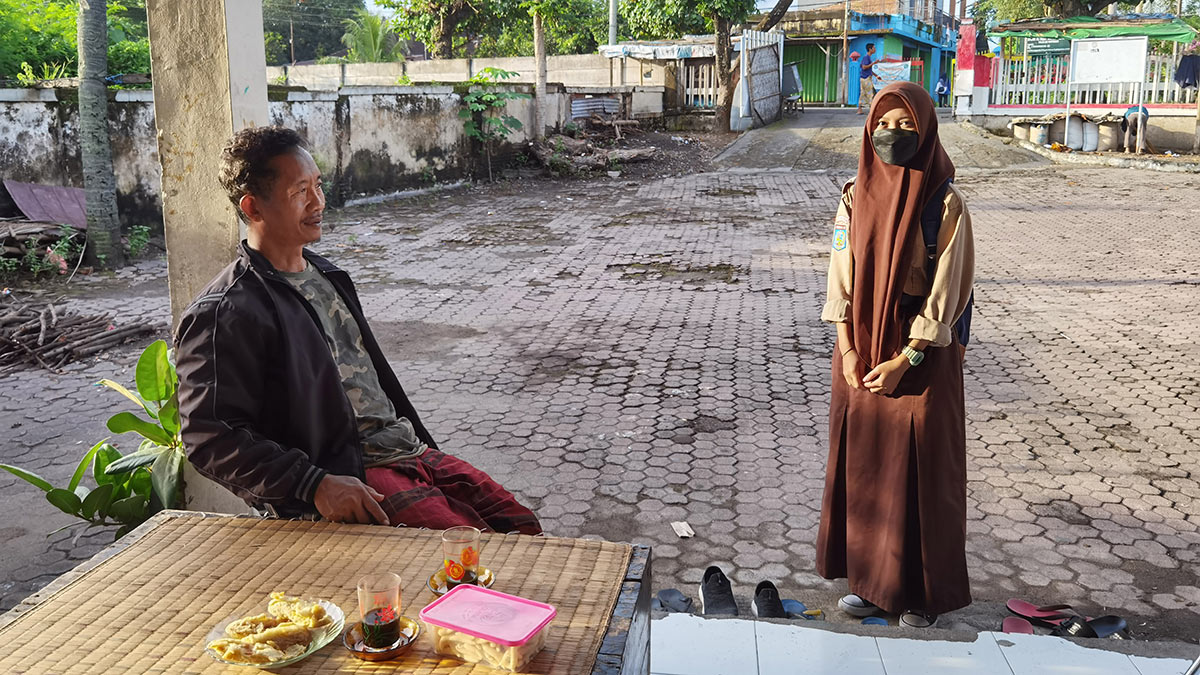 Maryam Nur Siddiqah bids farewell to her father Syahidin in the Transito Dormitory as she is ready to go school at State Junior High School (SMP) 16 Mataram, West Nusa Tenggara, November 26, 2022. TEMPO/Purwani Diyah Prabandari
Because the situation was unsafe, she was entrusted for safekeeping with an Ahmadiyya preacher in Manislor, Kuningan, West Java. There, she continued her junior high school and vocational high school education. "At first I was sad about being separated from my parents, but eventually I got used to it," said Idayatun. 
She also considered the grief she experienced during her childhood as a part of life. "You are an Ahmadiyya child right," were words she recalled being said to her. But she held no grudges.
After graduating high school, Idayatun returned to her family at the Transito Dormitory in Mataram, although later she had to travel far away from them again to become a migrant worker in Brunei Darussalam. After returning from Brunei, she became a domestic worker in Mataram. "It is sad to remember what happened in Sambik Elen. I don't want my younger siblings to experience it," said this oldest of four siblings.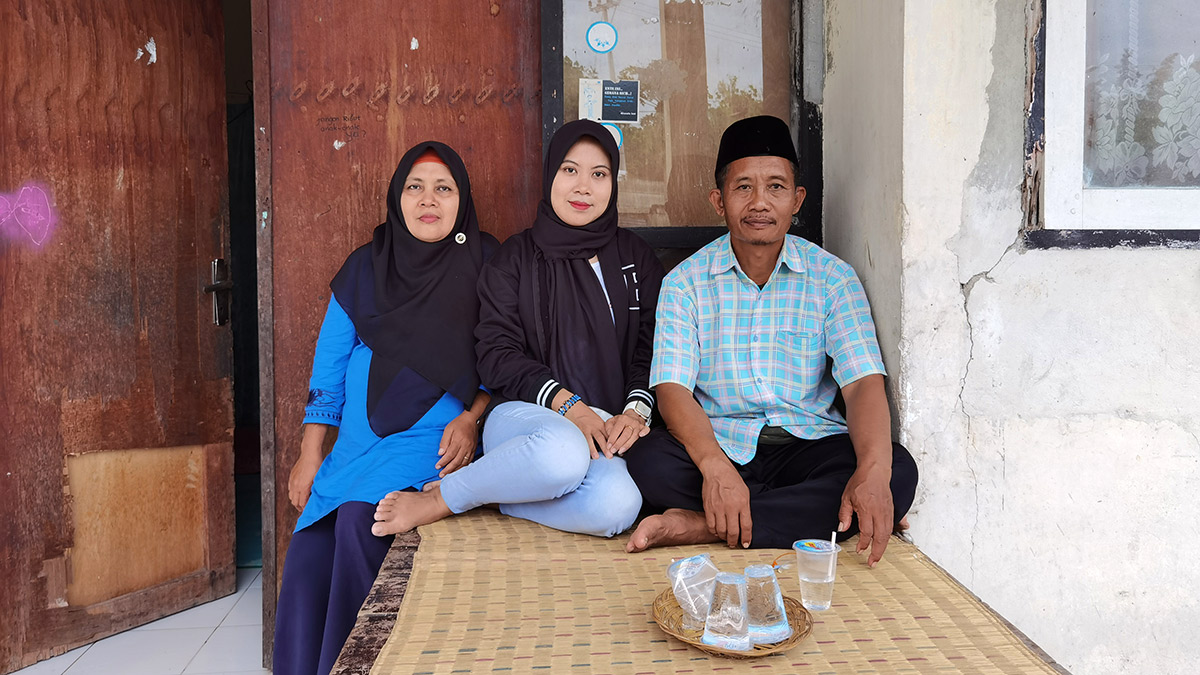 Idayatun Rasna (center) with father Syahidin and mother Senah at the Transito Dormitory in Mataram, West Nusa Tenggara, November 25, 2022. TEMPO/Purwani Diyah Prabandari
Her two youngest siblings have not experienced persecution or grief like herself and the second child in the family, as well as their friends did. Maryam Nur Siddiqah and Muhammad Khataman Nabiyyin, who are in the ninth and seventh grades at No. 16 State Junior High School in Mataram, were born after their parents were already living at the Transito. They have not experienced bad treatment or discrimination at school or elsewhere. In fact, last year Maryam was chosen to be a Child Ambassador of West Nusa Tenggara. "I want to become a doctor," she said. Khatam, who likes social studies, wants to follow in the footsteps of his older brother. "I want to become a preacher."  
Other children at Transito say similar things. They want to receive higher education and find good jobs. While playing cards on the porch of Syahidin's house, Alsa Nabila Kanwari, a fifth grader, said that she wants to become a flight attendant. Mirza Abdul Gani, a second grader, loudly said that he wants to become an airplane pilot, and Zaskia Melsa, a nine-year-old in the fourth grade, wants to become a police officer. "So I can help my parents," she said. 
When Tempo gave them two inspirational novels they rushed to see them. Two kids then split up and began reading. 
Even so, there is still concern. "(We are) afraid that people still think that the Ahmadiyya is a deviant sect," said Maryam. "I hope that the public treats us the same as everyone and that the government pays attention that some of the citizens are still being discriminated against." 
---
This story was produced with support from the Round Earth Media Program of the International Women's Media Foundation.