Reporting
Aquaponics Farming Helps Ugandan Women Regain Lost Livelihoods From The Pandemic
KAMPALA, Uganda — On a hill above Kampala's city suburb of Ntinda, new farmer Peace Mukulungu looks over her aquaponics farming project she says is slowly allowing her to recover from pandemic-related disruption. It is a manifestation of how new charity-backed interventions are allowing COVID-19 victims to restore livelihoods.
"Who knew I would become a fish farmer after all these years as a secretary!" she exclaims with a wide grin on her face.
The Aquaponics farming project is an initiative of Water Governance Institute WGI a local non-government organization that is supported by funding from USAID. It was rolled out in Kampala in 2018. Working with Kampala City Council, WGI has been promoting Aquaponics farming as a recovery initiative targeting women in Kampala that lost their livelihoods as a result of the Coronavirus pandemic. The intervention is aimed at promoting food security, improved livelihoods as well as boosting household incomes.
The 50-year-old Mukulungu is a single mother who over the years relied on her job in a secretarial bureau in the city to support her five children. When the pandemic hit and Uganda started to lock down to slow the spread of the highly contagious virus, the business closed. Within weeks, she was home and jobless.
Today Mukulungu is a beneficiary of the aquaponics farming project, from which she has been able to replace lost income from the secretarial bureau. Her system was stocked with 115 catfish fingerlings and vegetables including spinach and lettuce. These initial inputs were offered by WGI including fish feeds for 6 months.
Mukulungu earns Uganda shillings 350,000 (USD 100) per month from her fish farming, nearly double what she used to earn at the secretarial bureau.
"Who knew I could become a fish farmer without owning land and a pond," she keeps wondering. "This is more convenient because I don't even have to pay transport fare."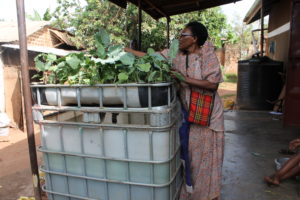 Similar stories of lost livelihoods across Uganda are commonplace. From teachers to market workers many women who had over the years supported their families have been left struggling as Uganda implemented one of the strictest lockdowns to stem COVID-19.
According to the World Bank, the COVID-19 shock caused a sharp contraction of the economy to its slowest pace in three decades. Household incomes fell when firms closed and jobs were lost, particularly in the urban informal and formal sectors. Gross domestic product contracted by 1.1 percent in the year 2020.
The impacts have been worse especially for women working in both the formal and informal sectors. A recent report by Akina Mama wa Afrika – a local charity – indicates that the economic impact has resulted in reduced incomes and opportunities to earn a livelihood for over 70% of women employed in the informal sector which is less secure in terms of social protection. The report further states that in the absence of mitigation in the form of gender-informed strategies, women are likely to face heightened tensions, financial uncertainties, food insecurity, and vulnerability to poverty.
Aisha Nalwoga the fisheries officer at WGI describes Aquaponics as a smart agricultural innovation that combines both fish rearing and growing horticultural crops in a closed-loop water-recycling system. The system comprises a water tank in which fish is reared and grow-beds. The grow-beds contain a sand-gravel-aggregate layered medium where crops are grown. Water is introduced, manually or automatically into the fish tank from where it is drawn out as fish-waste-water and irrigated onto crops in grow-beds.
"The system has a capacity of 1200 catfish and 160 horticultural plants in the grow-beds. The horticultural crops may include tomatoes, spinach, lettuce, green pepper among others," says Nalwoga. It allows for the year-round production of protein and vegetables. WGI working with Makerere University Agricultural Research Institute, Kabanyolo came up with this innovation.
The system is movable and can be set up anywhere requiring a small piece of land. It may be automated with water pumps using grid or solar energy, depending on farmers' preferences, affordability, and access to the energy options.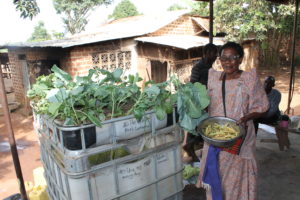 As COVID-19 ravaged the informal sector, the clientele for the project grew from less than 50 people to over 100 across Kampala's five divisions. The project has established 8 demonstration sites in Kampala city, plus Kamuli, Hoima, and Adjumani districts, supporting more than 400 beneficiaries across the country, a critical intervention as the country struggles to recover from the pandemic.
"People are embracing the innovation and adopting it especially because these systems take up less space and can be located anywhere in the backyards or rooftops and the fish is protected from vermin unlike in ponds," says Nalwoga.
The rapid urbanization, limited space, and a growing population in Kampala make aquaponics farming a better alternative to fish farming in earthen ponds that require bigger land and space.
For women most of who culturally in Uganda don't own land under customary law and tenure land ownership, and are dogged by insecure land rights, Aquaponics farming is a ray of hope.
Other beneficiaries are like 55-year-old Deborah Gita, who used to run a garment shop, dealing in used beddings in the sprawling downtown market of St. Balikudembe. When the pandemic hit, the market, one of the country's most congested was among the first to be closed down. Out of the job, the single mother faced a daunting challenge to support her five children. She was approached by KCCA and the village councilor to become an aquaponics adoptee. After days of training, she was assisted to set up a system at her home.
"My system was stocked with 400 catfish fingerlings and vegetables including kale and beans," says Gita. "I am now able to feed my family with a balanced diet and at the same time earn some money from the produce."
Now earning some 1,500 shillings ($4) per kilogram of Kale vegetable, Gita, who once struggled to feed her children earns enough money to afford necessities including food, pay for electricity, and her water bills. She is looking forward to the harvest of fish.
From her garment stall, she used to earn a profit of around Uganda shillings 500,000. Since she started on aquaponics, she has managed to get at least 400,000 each month from the sale of vegetables alone. When her fish gets of age, she hopes to more than double this.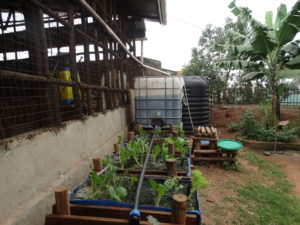 However, it has not been entirely smooth sailing for the project. Low skills to manage aquaponics systems, limited access to inputs such as water, fish feeds, and expensive electricity are some of the challenges before people like Gita. Securing a dependable and affordable source of good quality fish feeds and fish fingerlings on the Ugandan market has also not been easy for most beneficiaries. This has led to system management lapses leading to fish deaths and crop failure in some cases. Nonetheless, project officers have come up with training manuals as well as system management manuals translated into local languages.
Beneficiaries are also required to keep books on how they manage the systems in terms of how much water is used daily. Weekly calls are also made to beneficiaries to check on their progress. Through community awareness-raising meetings and radio talk shows, WGI has been promoting aquaponics farming among farmers, households, and youth in targeted districts. "We see aquaponics being an opportunity for employment for the many unemployed youths in the country," says Nalwoga.
For its part, the government of Uganda has put in place measures to mitigate the economic impact of COVID-19 on the masses. Experts say that the majority of these interventions target the formal sector and leave out the informal sector where many workers live hand to mouth, mostly women.
It has also been noted that these strategies and interventions are not alive to the gendered impacts of the pandemic and fail to fulfill aspirations of sustainable development goal 5 on gender equality and empowerment of women and girls yet this is crucial to accelerating recovery from the pandemic.
"Aquaponics is a viable and smart agricultural innovation however beneficiaries need to be thoroughly trained so that they understand how a system works, as the only way they will sustainably reap benefits from the systems," says Victoria Tibenda Namulawa head of Aquaculture at Uganda's National Agricultural Research Organisation.
This reporting was supported by the International Women's Media Foundation's Gender Justice Reporting Initiative.