Reporting
Challenges for People with Disabilities at Workplaces
Many people with disabilities have trouble finding work. And those at work must face various hardships. Job opportunities for them at companies and government institutions still fall short.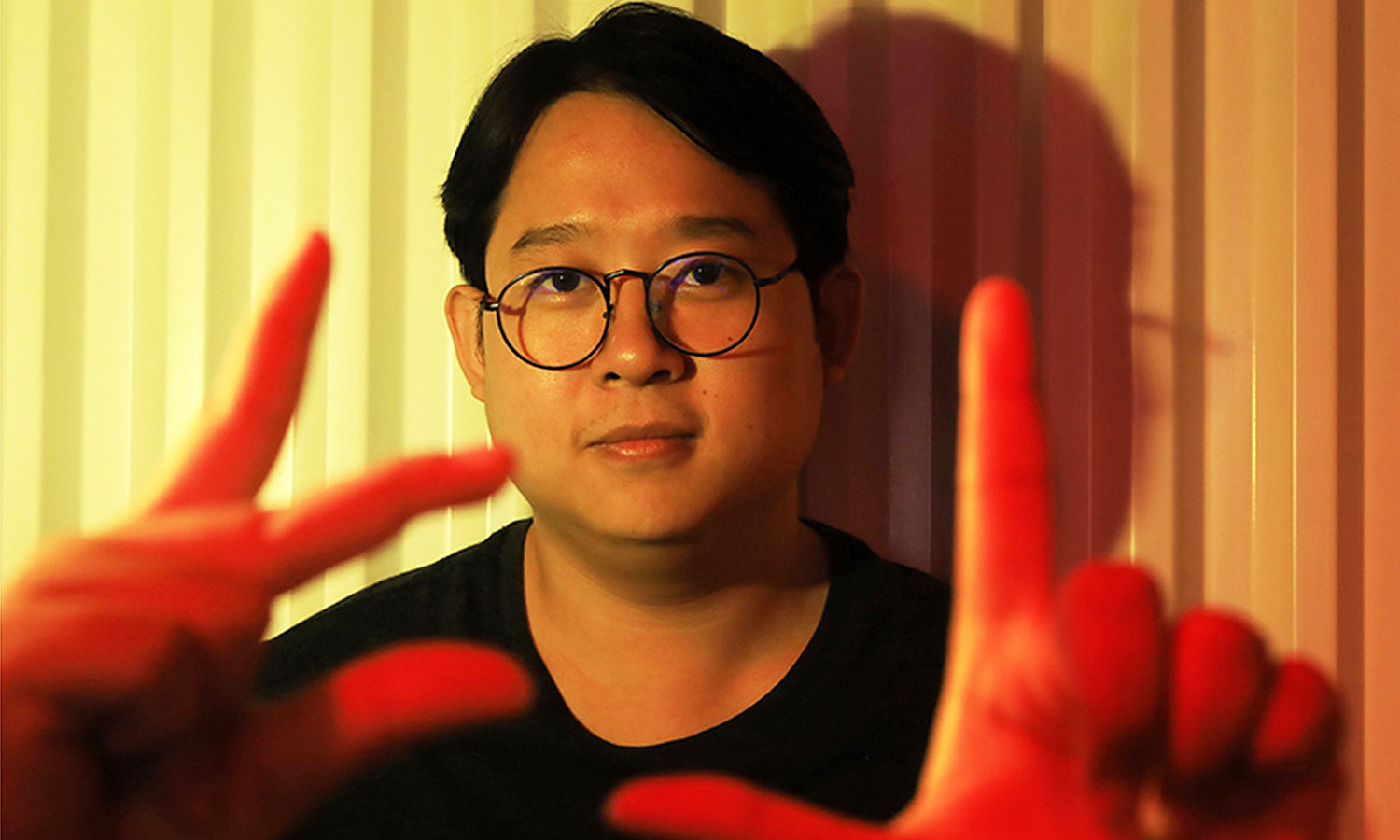 Christophorus Budidharma who has hearing impairments works as an Event Manager at Inklusiv Warung, Canggu, Bali, November 8. TEMPO/Nita Dian. 
IT is most university graduates' goal to find work after graduation. This also applies to Cristophorus Budidharma, who graduated from Rochester University, New York, United States, in 2019. The biomedical science graduate has applied to over 300 companies, both in the US and Indonesia, for various positions, from human resource manager, social media specialist, event manager, educator, facilitator, trainer, to cultural manager. "Unfortunately, I didn't receive good news from them," Cristo, who has hearing impairments, told Tempo on November 9.
The 29-year-old man had, in fact, been given an OPT-Visa, which should have allowed international students in the US with an F-1 visa to work up to 12 months according to their area of study. Every time he applied for a job, Cristo did not divulge his deafness to avoid elimination in the early stages.
The unanswered applications made Cristo frustrated and disappointed. And he did not manage to continue his studies due to financial reasons. The Jakarta-born volunteered for three months as an assistant professor of anatomy before finally deciding to return to Indonesia.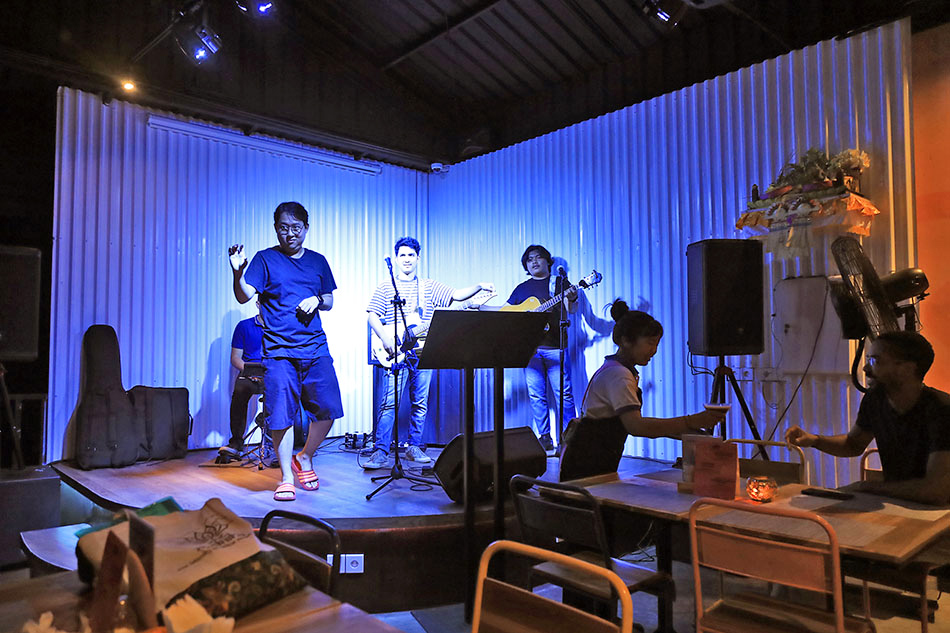 Christophorus Budidharma opens a music and karaoke event at Inklusiv Warung, Canggu, Bali, November 8. TEMPO/Nita Dian
He finally got a job as a villa manager in Gili Air, Lombok. His new boss was an American sign language interpreter. Several months later, Cristo was recruited to work at Silang.id, an educational tech startup, as head of the education division. "Silang.id was the first startup to employ me," said Cristo, who worked there for more than two years.
Afterwards, Cristo began working at a restaurant called Inklusiv Warung in Bali as an event manager. But challenges at work still abound. He often has trouble communicating. Not all workers at Inklusiv Warung are disabled, and certainly not its guests. He does not expect people to communicate with him using sign language. He more often reads lips. Sometimes, when he is tired, he has trouble reading lips. When this happens, he would ask the other person to write down their words or type them on their mobile phone.
Still, all in all, he feels fortunate. Both Silang.id and Inklusiv Warung's policy does not tolerate discrimination based on gender, age, and disability. Both of these workplaces also provide accessibility, for example, by ensuring that all their staff is versed in sign language. Furthermore, they are in compliance with Law No. 8/2016 on people with disabilities, which requires all private companies to have people with disabilities make up at least one percent of their employees. Half the employees at Inklusiv Warung are people with hearing impairments.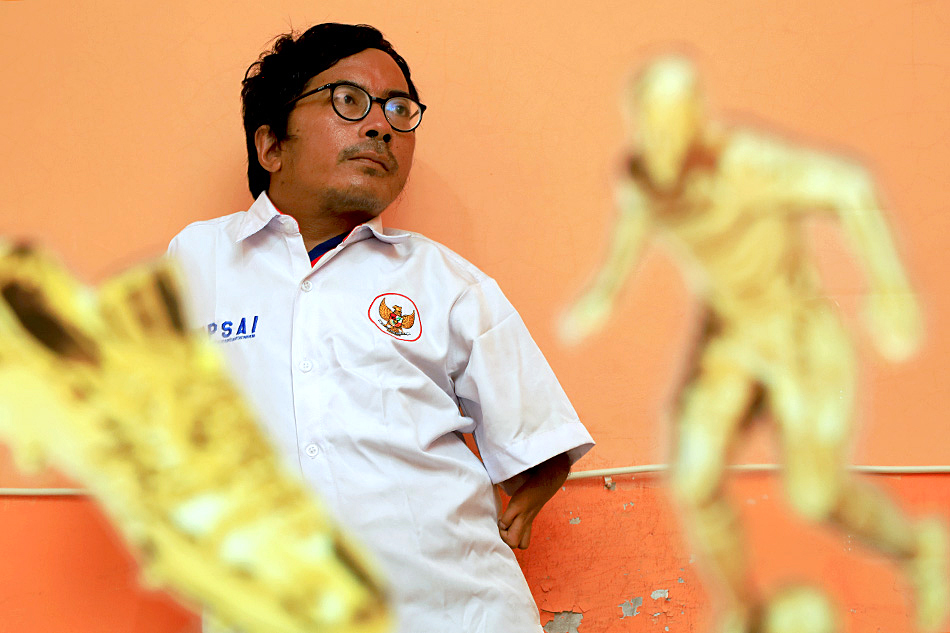 Vicente Mariano, spokesperson of the Indonesian Amputee Soccer Association (PSAI), at the PSAI Secretariat in Jakarta, November 28. TEMPO/Nita Dian
Vincente Mariano, now a spokesperson for the Indonesian Amputee Soccer Association (PSAI) and chairperson of the Jakarta Amputee Soccer Association (Persaj), also had trouble finding work.
Vincente was born with a physical disability, having only one arm. As a young boy, he received bullying and discrimination on a daily basis. But he did not become discouraged. After a while not finding a job once he graduated high school in 2015, Vincente decided to try his luck in Jakarta. "I felt that staying (in my hometown) would not move me forward," said the 39-year-old man.
Vincente became acquainted with the Cheshire Indonesia Foundation, which works in training for people with physical disabilities. He received training to develop his potential. "Many who were assisted by the foundation became successful. After leaving the foundation, they become independent."
After one month of training, Vincente was recruited as assistant manager for the United Kingdom-based foundation. He was then made to lead one of its programs, namely, Young Voices Indonesia, whose members are young people with various disabilities.
Still, Vincente tried to find a job at corporations. But his applications never received a response. He failed to apply to several jobs due to certain requirements, such as academics, age, as well as physical and mental health. "The mental side is fine, but the physical part, that's where the trouble is," he said.
Finally, he stopped applying for jobs at companies and decided to become a chess athlete. Chess has been his hobby for a long time. In 2016, Vincente joined the Depok City National Paralympic Committee Indonesia (NPCI).
In his journey, he became acquainted with Yudi Yahya, a young amputee who is a fan of soccer. Yudi enlisted Vincente to found the PSAI—previously called Garuda Indonesia Amputee Football (INAF). Vincente then left the Cheshire Indonesia Foundation to focus on the PSAI. In October, Indonesia's national amputee soccer team joined the 2022 Amputee World Cup in Turkey. Vincente is proud that most of the athletes in the national team are members of Persaj, a Jakarta amputee soccer team he leads.
Vincente is now making efforts to have more amputee soccer competitions in Indonesia. "Next year, hopefully the Governor Cup will be approved by the provincial government.
Cheta Nilawaty has a different story. The Tempo journalist only became blind in 2016. Although she can no longer see, Cheta still actively works as a journalist while pursuing her master's degree in Australia.
Initially, Cheta's eyesight deteriorated due to retinal detachment caused by diabetic retinopathy. She endured eight surgeries. But instead of recovering, the 40-year-old woman's eyesight declined further and she became completely blind in December 2016. At the time, Cheta felt that her world had ended. "It was as if my heart stopped. Like I was dying, better off dead. That's how I was then, desperate," said Cheta.
In August 2016, when she still had some vision, Cheta thought she would be fired from her job. Instead, her colleagues introduced her to the Mitra Netra Foundation in Lebak Bulus, South Jakarta. It was there that Cheta found hope within herself to still work as a journalist.
At the rehabilitation center for people with visual impairment, she learned to adapt using a cane, applications, and tools to support people who are visually impaired, such as a talking computer. After becoming completely blind, she was still able to return to work. Although she has had her ups and downs, her mother had been Cheta's greatest motivation to persevere. As the only child to a single mom, she was the backbone of her family.  Her mother passed away in 2021.       
As a journalist, there are times when Cheta has to go to the field. Tempo provides an accessibility facility in the form of a caretaker for Cheta. "That's the mechanism, in the field there has to be a caretaker. If a caretaker isn't available, I would try to do it myself, but it doesn't end well," she said.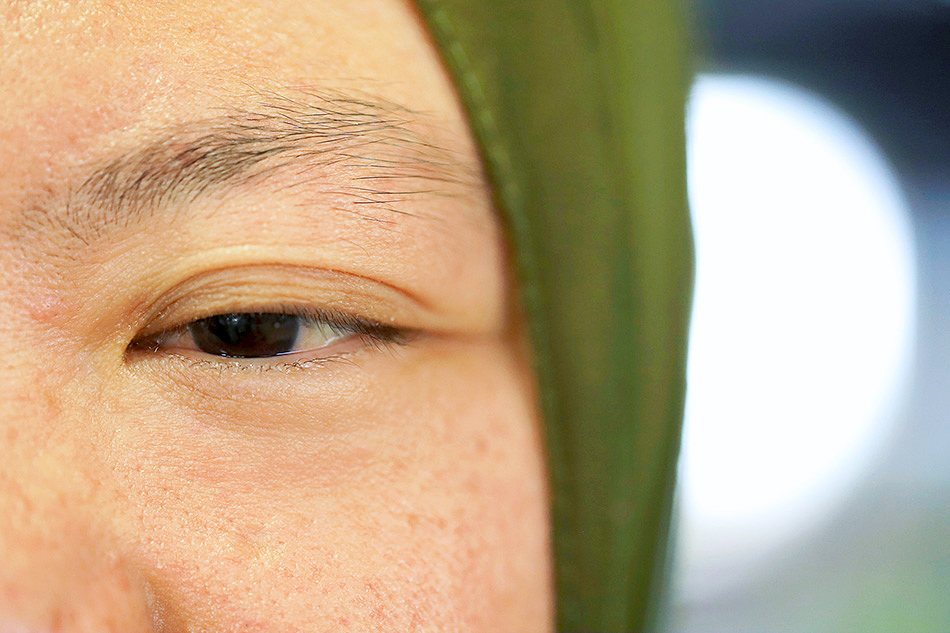 Cheta Nelawati, Tempo journalist who is blind in Jakarta, November 30. TEMPO/Nita Dian
Cheta said the greatest challenge as a visually-impaired person working as a journalist is mobility. The problem is, she also suffers from stroke symptoms that impairs her balance. As a result, she has trouble pursuing sources. When covering an event, Cheta would communicate to the event's organizer about her condition. Usually, she would ask for someone to assist her when she arrives and leaves. "What's important is that someone is waiting in front of the lobby to guide me to my seat. After it's done, return me to the lobby."
Besides mobility, Cheta's other big challenge is the lack of trust. To many people, said Cheta, a blind journalist is an anomaly. When she was covering the ASEAN Para Games, the officer of the organizing committee thought Cheta was a member of the cheer team from a rehab center. She had to show the committee her press card in order to convince them that she had come to cover the event. It was Cheta's experience that moved Tempo to have difabel.tempo.co in 2019. 
•••
TROUBLE finding work, such as experienced by Cristo and Vincente, matches the data on the low absorption of people with disabilities at workplace. Minister of Manpower Ida Fauziyah said the placement of workers with disabilities in companies as well as government institutions has not yet reached its target. "Because many (workplaces) are still hiring (workers with disabilities) under one percent compared to their entire workforce," said Ida in a written answer to Tempo on November 29.
Based on the Central Statistics Agency's (BPS) National Labor Force Survey (Sakernas) administered in February, there are 7.8 million people with disabilities that have jobs. But according to the Ministry of Manpower's mandatory reporting site (WLKP), only 3,443 people with disabilities are working at companies in October. Furthermore, said Ida, only 969 companies—or 1.73 percent of the targeted 3,304 firms in Indonesia—are employing the disabled persons.
Based on reports from the WLKP and regional manpower offices, people with physical disabilities make up most of the disabled people at the workplaces. Besides the low absorption, the quality of human resources with disabilities has been under the ministry's attention. Ida said most people with disabilities only graduate from middle or elementary schools.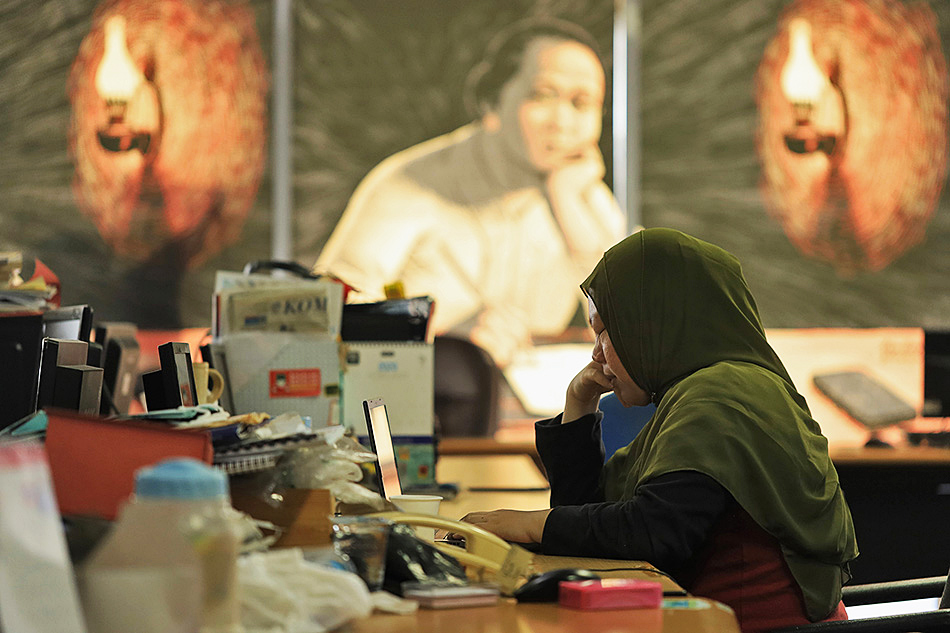 Cheta Nelawati at work in Tempo's newsroom in Jakarta, November 30. TEMPO/Nita Dian
The National Awakening Party (PKB) politician explained that companies and the government are required to employ workers with disabilities according to Article 53, Section 1 of Law No. 8/2016 on people with disabilities. There are sanctions against companies and offices that violate this law. "The government is still making an approach and raising awareness to encourage the fulfillment and protection of the disabled people's right to work."
Even so, there are criminal sanctions according to that law, namely, in Article 144 and 145. Individuals and institutions may be subject to criminal sanctions if they fail to fulfill and protect the rights of the disabled, including their right to work. According to Ida, the philosophy behind the law has to do with human rights and not charity.
Ida acknowledges that the disabled community indeed faces various challenges in finding work, such as accessibility, transportation, as well as products and services. Additionally, there is the disadvantageous social protection system, non-inclusive education and vocational training, as well as the lack of support for young people with disabilities in the transition process from school to workforce.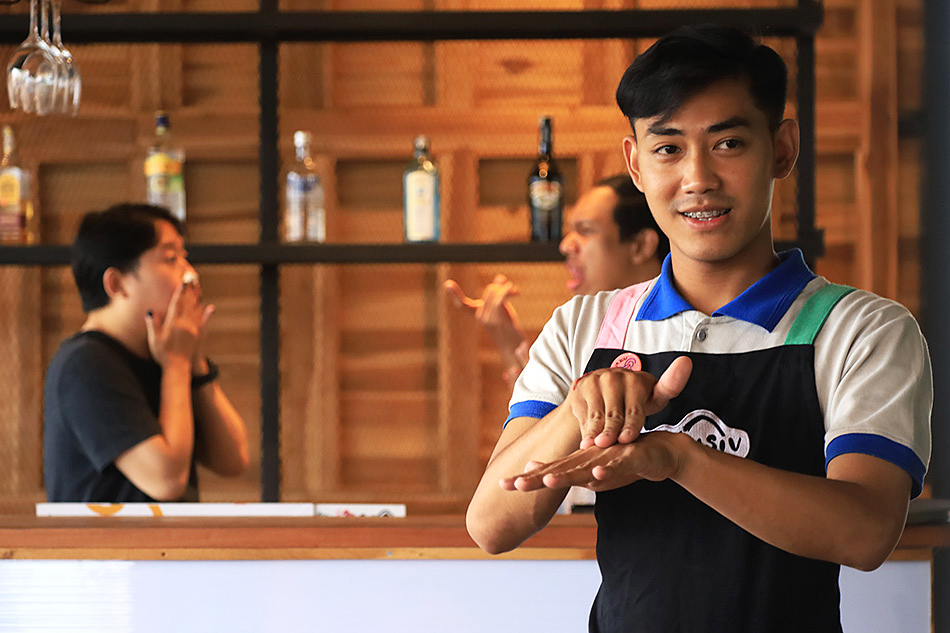 Workers with hearing impairments communicate with sign language at Inklusiv Warung, Canggu, Bali, November 8. TEMPO/Nita Dian
There is also the absence of supportive public workforce facilities as well as the low awareness of workplaces' obligation to meet their quota. Not to mention the lack of awareness and confidence to involve the disabled at workplaces, work location and tools are difficult to reach, the lack of effort to adapt at the workplaces, and lack of support for job retention and career development.
Stigma and stereotyping, not to mention discrimination that tend toward violence and harassment—including at workplaces—are some hefty challenges.
In accommodating people with disabilities in finding jobs, the ministry of manpower has held job fairs, working with job portals, related offices, and job market. Programs include strengthening the understanding of the fulfillment of the disabled people's right to work paradigm, an assessment for the formation or organization of the Manpower Disability Services Unit (ULD), both in the capital city as well as in the provinces.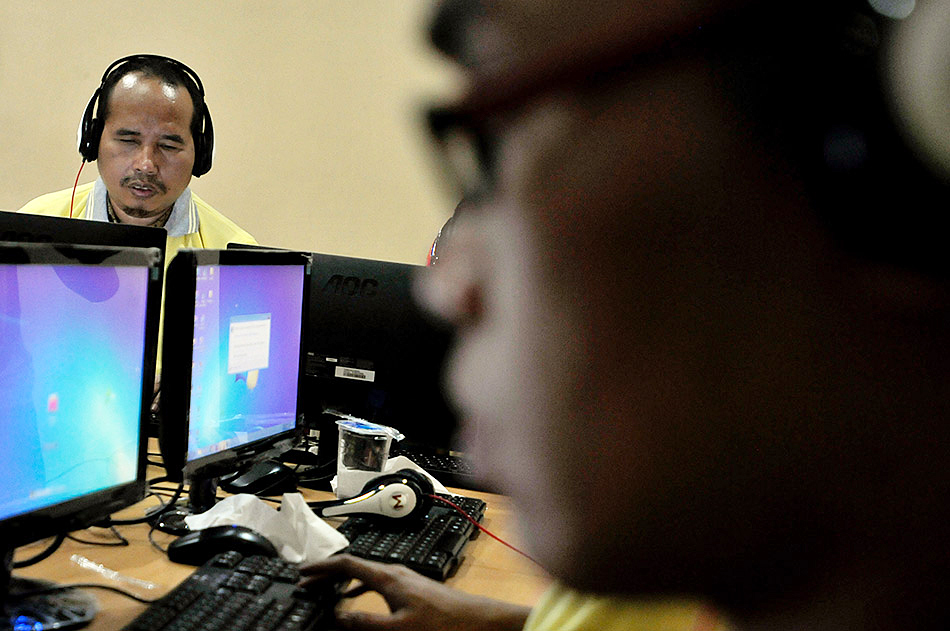 People with visual impairment participating in training for Internet use and Internet marketing in Jakarta. TEMPO/Tony Hartawan
Next is the development of a supply and demand network for workers with disabilities and strengthening sensitivity around the disabled people, human resources that manage the Manpower Disability Services Unit. Managers and instructors at 21 vocational and productivity training centers are also given the same assistance.
Appreciation is given to companies and state-owned enterprises that employ people with disabilities, conduct young talent forums, as well as talent scouting for young disabled workers. The manpower ministry only recently awarded these appreciations as part of the International Day of Persons with Disabilities, which falls on December 3. The award was given to the East Java Provincial government for their concern, as shown in their manpower program that is inclusive of the people with disabilities.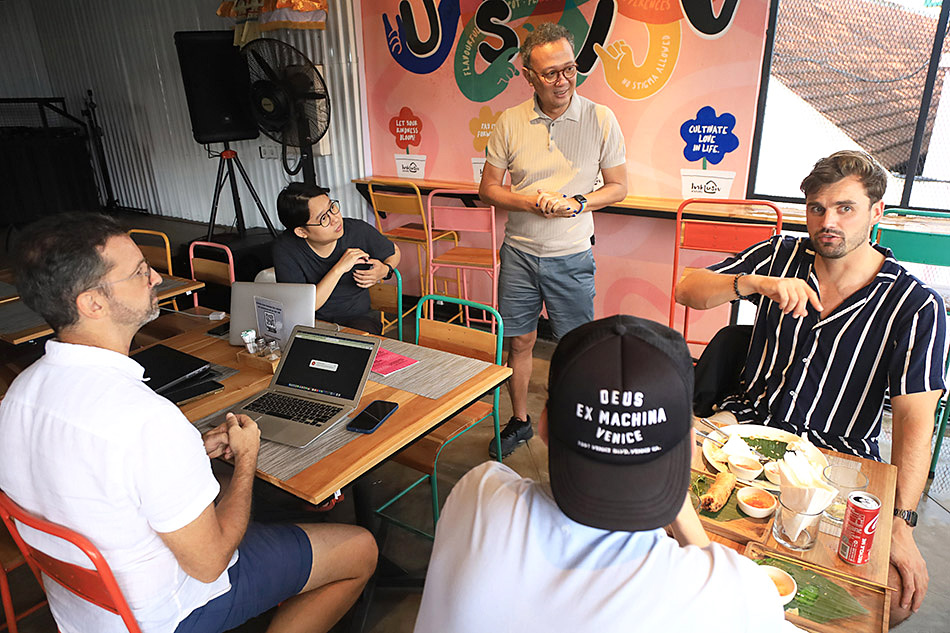 Inklusiv Warung owner Gunn Wibisono (center) and Hans de Waal (left), conversing with customers at Inklusiv Warung, Canggu, Bali, November 8. TEMPO/Nita Dian
One businessman who already complies with the law on people with disabilities is Gunawan Wibisono, or commonly known as Gunn Wibisono. The owner of Inklusiv Warung in Canggu, Bali, employs 17 workers with hearing impairments, including bartenders, a human resource manager, an event manager, servers, and chefs. They amount to half of the restaurant's total number of workers.
Gun, who is gay, said he became interested in hiring them because of a similarity that he and his workers share, being part of a minority group. Initially, Gunn had doubts about the capability of people with hearing impairment to work. But, after several months, their performance impressed him. "Very good. It was a mind opener for me. Apparently, I had many prejudices."
---
This story was produced with support from the Round Earth Media program of the International Women's Media Foundation.