Reporting
Cowed by cartels? Mexican journalists find fresh ways to get info out.
Reporter AJ Espinoza rarely publishes stories that touch on recurring corruption, gun battles, kidnappings, or cartel violence that roil his home state.
At least, he doesn't publish them in Mexico.
About two years ago, Mr. Espinoza, who uses a pen name for security, discovered one way he could counter the limits he faces as a journalist in Tamaulipas, where battling cartels – and allegedly aligned government officials – have fostered an environment of strict self-censorship.
Playing by the rules of power brokers who dictate what can and cannot be published or broadcast can mean the difference between life and death, observers say. Mexico, which ranks 149th out of 180 countries in the world press freedom index, is one of the most dangerous countries in the world to practice journalism, with five journalists killed within the first four months of 2016 alone. Ninety-three journalists have been murdered since 2000, according to Article 19, a free press advocacy group based in Mexico City.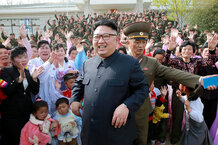 Espinoza's solution was to team up with a US-based reporter, writing the stories he wished fellow Mexicans could read in their local papers for a US news outlet instead. His stories and others like them are published online in both English and Spanish, under pseudonyms, so that people in both countries can take in the news that few others feel it's safe enough to publish.
"No one else needs to know that I'm doing this, sharing this information," Espinoza says. "If anyone else I know is doing this, I don't think they would tell me. You don't know who you can trust."
The US-Mexico border region has been plagued by waves of violence for years, as drug cartels battle for territory and control. One key outcome is that ​cities and states ​can ​start to look like Tamaulipas, which is often referred to as a "black hole" for news and information.
While there have been efforts to fill the information gap in Tamaulipas over the past six years through social media and citizen reporting, more recently journalists like Espinoza and local news outlets have tried to find additional ways to safely report amid violence and threats. The steps may be relatively small in scale, but they are a key part of combatting restrictions and keeping the public – both at home and abroad – informed and engaged, observers say.
"Journalists are the ones that provide communities with the very basic knowledge to be able to carry out their daily lives," says Celeste González de Bustamante, an associate professor at the University of Arizona who studies the effects of violence on journalism along Mexico's northern border.
Whether it's information on a shootout between the military and organized criminals in a residential area, or an investigation into political corruption, a lack of trustworthy information "contributes to fear, uncertainty," and less-engaged citizens, says Ms. González de Bustamante. "You just don't know what the situation is or what the risk is if you don't have quality journalism coming out."
Sending a message
Even before fighting between the Gulf Cartel and its former paramilitary wing, the Zetas, exploded into urban warfare​ in 2010, local journalists shared stories of colleagues kidnapped or murdered or intimidating phone calls from cartel "links."
But then it became more common for ​shootouts ​to break out in the middle of downtown intersections and residential neighborhoods of Matamoros, Tamaulipas, and nearby Reynosa, Nuevo Leon, both cities that abut the Texas Rio Grande Valley. Often, the violence was targeted at newspaper offices, and messages for rival cartels were sent via the murders of local reporters.Everything from government websites to news outlets went silent. Information posted on Twitter accounts or Facebook pages began letting the public know which roads to avoid when taking kids to school or locations where citizens could pay their utility bills.
"Newsrooms started waiting for the green light to publish," says González de Bustamante. "But the green or red light isn't coming from the owner of the paper or managers, but from members of organized crime," she says. Editors "say they have to answer to two bosses: the publishers and the cartels."
As a result, some outlets got creative. El Mañana, one of the oldest newspapers in the region with a circulation of about 30,000, will occasionally run a sensitive story from Tamaulipas on the front page of its neighboring Nuevo Leon-based edition, while burying the story locally. Despite the news still being out there, observers say this tactic has made a difference for local journalists.
Others have tried to adapt by creating alternative publications that come out less frequently or by choosing angles that allow them to look at a big story – like the massacre of nearly 200 Central American migrants in San Fernando, Tamaulipas in 2011 – without challenging the authority of organized crime head-on.
Some media will at times risk publishing or broadcasting stories that implicate cartel activity, but will leave off bylines or cite hard-to-trace Twitter users as sources.
"For people not on the border, it's hard to grasp that in cities like Matamoros or Reynosa, organized crime has complete control," says Ildefonso Ortiz, a reporter for Breitbart along the Texas-Mexico border who began partnering with Espinoza to publish his work in the US. "It's like an alternative form of government. They control the media; they boss around politicians and the government. It creates a difficult situation for journalists that are trying to write about stories" the cartels deem uncomfortable or unacceptable, he says. There are also cases where the cartel might "order up" coverage from a newsroom, as well.
Last year Mr. Ortiz and his editor partnered with a handful of Mexican journalists – as well as some citizen reporters who emerged as reliable sources via blogs or Twitter ​following the 2010​ uptick in violence​ – to provide a potentially safer venue for local journalists to publish news from the region.
"We developed this project to shed some light in the darkness," says Ortiz.
The Cartel Chronicles, published by Breitbart, is the result of those partnerships. It's published ​ in both English and Spanish so as to keep US readership aware of the realities happening just south of the border. They've also decided to perpetuate a somewhat controversial Latin American news practice of publishing graphic, bloody photos.
"When words like murder and execution are used almost every day, they start to lose their meaning," Ortiz says.
But even when working anonymously, people still face risks for sharing information in Mexico. In 2014, a crusading Twitter user publicizing details about shootouts and cartel violence in Tamaulipas was kidnapped, and her murder was published on Twitter. It was accompanied by a message telling people to close their accounts – and their mouths: "My life has come to an end today. Don't put your families at risk like I did … I died for nothing. They are closer on our trail than you think."
Despite the very real dangers, Espinoza says teaming with Ortiz is worth it. "If no one knows what's really happening, how can the situation ever change?"
Not always so extreme
Not every case is as extreme as Tamaulipas, analysts say.
"I am very understanding of people [who self-censor]. They have seen people shot. They have seen the beheadings. They self-censor to protect their lives," says Rosental Alves, director of the Knight Center for Journalism in the Americas at the University of Texas at Austin. But, he says, there are examples of news outlets, like the investigative magazine Zeta based in the northwestern city of Tijuana, that have managed to take a stand.
"They publish everything. They will not shut up under pressure," Mr. Alves says, acknowledging that employees there have paid the price for speaking out along the way.
González de Bustamante agrees: self-censorship isn't always the only choice.
In Ciudad Juarez, across the border from El Paso, violence started to chip away at media organizations' reporting around 2006. But she found in her research that there was an organized response.
First, several female reporters at El Diario de Juárez created a professional network that aimed to organize workshops, teach investigative skills, offer resources to journalists who were victims of violence, and create a venue to share safety tips among reporters. Other professional associations followed, and for the most part, news outlets continued publishing stories on cartel activity and other issues dogging what was at the time considered the most violent city in the world.
"Tamaulipas historically has been an area where both the press and civil society have been somewhat weaker than in other states," says González de Bustamante. "And that shows" in how journalists in different parts of the border have dealt with or rebounded from violence.
"Self-censorship, it is occurring all along the northern border, but in Tamaulipas, it's more acute," she says.
For Espinoza, all of this has led to reporters losing value in the public eye. Professionalism in the journalism field in Tamaulipas has declined, some reporters have felt compelled to leave the state for their own security, and some view reporters as simply fronts for cartel or government messaging – not an independent voice.
"We've lost credibility because we lack tools to do our work. Before, it felt like journalism was synonymous with respect," he says. "We are being stifled, and without more attention or resources to report, everyone suffers."
Whitney Eulich's reporting on the US-Mexico border was supported by the International Women's Media Foundation.