Reporting
Dodging death and immigration officers: 12 hours as a London fast-food rider – and all for £40
As a delivery rider on a Friday night in Soho, you see it all: Savile Row tailors, Russian oligarchs, raucous hen parties, pub brawls, the lot. "You learn so much about how society works in this job," says Shaffi, a 28-year-old rider from London, who has been working as a delivery rider in the capital, six days a week, for the past seven years. "The only thing is, you're always on the outside looking in."
Delivery riders account for one of the fastest-growing forms of employment. During the pandemic, Deliveroo says it doubled its UK couriers from 25,000 in 2020 to more than 50,000 in 2021. For the next 12 hours, I will be shadowing Shaffi to see what it's really like for him during a typical day's work.
It's almost midday on a muggy summer day, and we're sitting on some steps at the northern end of Chinatown, fuelling ourselves with biscuits and crisps before the shift gets going. There's some jostling among the 30 or so other riders here to find the optimal position ahead of the lunchtime rush.
As noon rolls around, Shaffi loads up Deliveroo and UberEats on his phone; within seconds, the first order pings in.
Filtering, tucking, weaving our way through traffic, we arrive at Nobu, one of London's top-end Japanese restaurants, to pick up the order. Stapled to the bag is a receipt for £84: sashimi and crab rolls. With the clock ticking, we cycle through Mayfair, nipping along backroads and side passages past a Ferrari dealership and the glitzy shop windows of Gucci and Louis Vuitton. After this long in the job, Shaffi no longer needs to use the app navigation; he has memorised the road names, the shortcuts, the time it takes for traffic lights to change.
The extravagant lunch is for an intern at a large American asset management company on Berkeley Square. We line up alongside a row of riders as, one by one, a trickle of twentysomethings appear, all in chinos and gilets. We are told the desk meals are chargeable to the company, which is worth billions, and will all be written off against tax. Shaffi gets £3.15. There's no tip.
At a palatial penthouse just off Savile Row, we drop off another order to a concierge. This one's for a young Saudi man: dinner at £192 from the high-end Chinese restaurant Hakkasan, a stone's throw away. Deliveroo will take £35-45 of the order, while the restaurant gets £150. Shaffi gets £2.90. No tip again.
Another ping: this time it's for six bottles of water and two litres of milk for a customer at a plush hotel nearby. "Russians, definitely Russians. They don't drink the water in their country, so they think you can't drink from the taps here," Shaffi explains, before rejecting the request. "I'm not doing their shopping for them. It's too heavy."
It was not always like this. Before 2019, Shaffi was earning £1,000 a week, with one platform offering a £7 hourly wage rate, with an additional £1 for every drop. Being paid to cycle around the city he grew up in seemed like a dream job. He could make £15 an hour, and sometimes up to £4,000 a month – triple what he had earned in his previous job in customer services at Waitrose.
The pandemic was "heaven" for riders, he says: open roads, no safety concerns, orders galore. Then the system changed: the distribution algorithm could decide which rider was allocated to each order, introducing extra competition among couriers and driving down pay for each delivery. Deliveroo says it does not pay less than £2.90 for a single delivery, although if two different customers close to each other order from the same or two nearby outlets, it will sometimes offer a rider a "stack order", in which case the rider will get a top-up fee but not an additional £2.90 minimum fee. During our shift, the pay-per-drop rate ranged from £1.80 for a "stack order" quick journey, to £5.70 for a six-mile round trip from Westminster to Shepherd's Bush.
Currently, a delivery rider might earn £60 to £80 for 12 hours' work – in effect half of the hourly minimum wage, meaning they now need to work between 80 and 110 hours a week.
Meanwhile, the online food delivery industry, valued at £10.5bn, is raking in profits, having grown by more than 35% every year since 2017. The number of users is now 12.7 million – almost one in four adults in the UK.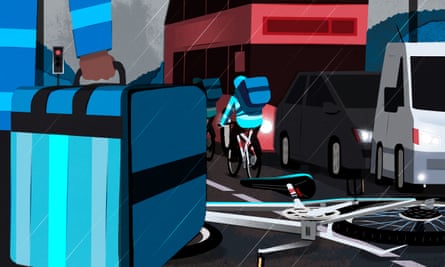 There's a lull between 3pm and 5pm, so we filter back towards Dean Street in Soho. There's a close shave as Shaffi gets boxed in between a car and a high kerb. "I used to get a real adrenaline rush with that stuff but it's numbed now." Jumping red lights, riding on pavements and ducking between buses is par for the course in this work, and accidents are frequent.
Deliveroo says it offers flexible working to more than 90,000 self-employed riders across the UK, allowing its couriers to work around their own schedule. "Alongside flexibility, we want to offer riders more security," a spokesperson says. "Deliveroo was among the first platforms to offer riders free insurance, which we have extended to cover periods of illness and financial support for new parents.
"Every rider is guaranteed to earn at least the national living wage, plus costs, while working with us, though the majority earn more than this."
Back at his base in Chinatown, we join a group of Indian couriers. Most are not as experienced as Shaffi – only a year or maybe two in – and are not as selective about their orders. "We take anything," they laugh.
All of them juggle different platforms – or "multi-app" – renting accounts, typically for about £50 a week, from holders who have the correct documentation to register for an account (typically a passport and right-to-work paperwork). Riders are allowed to let other riders use their accounts, provided they too have been checked and approved by Deliveroo. The company says it ends the account of anyone who engages a substitute who doesn't have right-to-work status.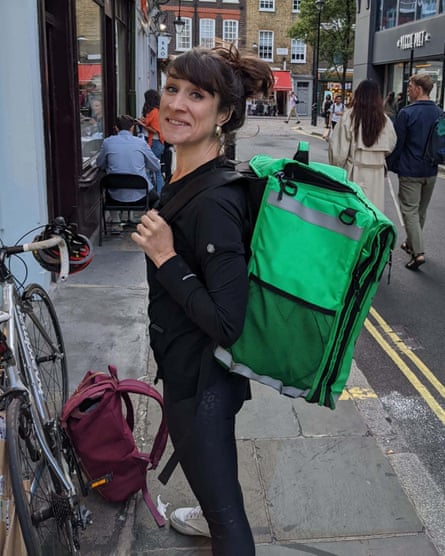 The riders I speak to are undocumented migrant workers, willing to accept lower pay and poor working conditions to get around restrictions on the right to work. Having spotted this trend, in April the Home Office announced a series of crackdowns, with immigration enforcement officers hovering around hotspots such as the one in Chinatown and demanding insurance paperwork from riders. If they do not have it, their vehicles get impounded and the rider is detained; some have been deported.
A Brazilian rider shows me a video of his friend being handcuffed and hauled away in a police van. "They're all plainclothes immigration police," he says. "There's a waiting place up on Tottenham Court Road where we all used to go, but they're always there now, so we tell each other to avoid it."
At a drop for some international students, none of them picks up the phone for seven minutes. When they eventually make their way down, they do not have a code. "No code, no food," Shaffi tells them, and gives their food to a homeless man.
As the shift draws to a close, we are caught in a sudden deluge. Riders nestle into doorways, chatting among themselves and charging their phones on power banks. Deliveroo and UberEats add 50p to each order when it rains, and notifications start pinging, incentivising the group to get going.
By midnight, having ridden 19 miles in 12 hours with few breaks, Shaffi has earned £44: £36 from Deliveroo and about £8 from Uber Eats. He cashes out, taking a 50p hit in the form of a surcharge for not waiting until the end of the week. He has earned no tips.
Now he'll have a 10-mile cycle home to north London. He'll do it again tomorrow, and the next day, and the next, in all weathers, regardless of how precarious, or unsafe, or poorly paid it is.
As we part ways, I feel physically and mentally exhausted, happy to be away from the road rage and the incessant honking of horns. I could vow not to use the platforms again, but who would that serve? The one thing I know is this: next time I do, inevitably, order a takeaway, I'll remember to tip the rider.
 This article was amended on 15 and 25 September 2023. An earlier version, in noting that food-delivery couriers are classified as "self-employed contractors" rather than staff, said that they "are not entitled to sick or holiday pay and have no rights to collective bargaining, including the right to negotiate their pay, hours or holiday leave". In fact a GMB agreement with Deliveroo established the right for riders to have sick pay for two weeks, to be represented by GMB on issues at work, and for a joint council with Deliveroo for GMB members to agree policies affecting earnings, safety, diversity and benefits. The relevant section has been removed. In addition, an earlier version stated that Shaffi had received £1.80 for a single delivery, without making clear that this was a "stack order", where riders are offered a top-up fee when two different customers who are close to each other order from the same or two nearby outlets. This has been clarified.
This reporting was supported by the International Women's Media Foundation's Howard G Buffett Fund for Women Journalists