Reporting
Forget tea, drink more coffee: can a national culture be changed?
Smayah Uwajeneza's first espresso was memorably unpleasant. The 19-year-old barista and latte artist wrinkled her nose as she recalled the bitter sip. "I hated coffee then." Now, she says, she "can't live without it".
Uwajeneza is by all accounts an exception in Rwanda, which produces some of the world's finest coffee yet hardly consumes a drop. The country's government hopes to change this with a campaign urging Rwandans to drink what they sow.
"Rwandans, as producers of quality coffee that wins best prizes worldwide, have to celebrate its quality through its consumption," says Pie Ntwari, a spokesman for the National Agricultural Export Development Board (Naeb), a government agency dedicated to increasing agricultural exports.
Building a coffee culture and increasing the level of domestic consumption are critical to growing Rwanda's foremost export, he says, as well as combatting the appeal of imported brands, such as Nescafé. "The promotion of local consumption of coffee by the government aims at making Rwandans benefit from their production, but also help them [to] improve quality."
As in many African countries, coffee has historically been a cash crop, not a drink in Rwanda. The country exports nearly 99% of its coffee, but the emergence of an urban middle class has edged up local consumption, from 0.02% of total production in 2007 to 1.3% last year, Ntwari says.
Coffee shops, once the domain of expats and foreign visitors, are increasingly popular among Rwandan professionals. A decade ago, there were only a handful of coffee shops in Kigali. Today, he says, there are more than two dozen.
But government efforts to get Rwandans drinking more coffee have been stymied by a strong preference for tea and an entrenched view that coffee, introduced by colonial rulers more than a century ago, is a beverage consumed by foreigners, not locals.
"Drinking coffee is not our culture," says Samuel Uwihanganye, an assistant manager at Bourbon Coffee, a "crop to cup" cafe in downtown Kigali. "We are like English people. We drink tea."
Price is also an obstacle, Uwihanganye says. For many Rwandans, coffee is an indulgence they can't afford. At a cafe in Kigali, a regular cup of coffee can cost as much as 2,000 Rwandan francs (£1.70), while a latte may cost 3,000. Meanwhile, despite significant economic growth over the past decade, more than 60% of Rwandans still live on less than $1.90 a day, according to the World Bank.
Uwihanganye says he has certainly noticed Rwandans are ordering coffee more frequently. Bourbon's Happy Hour promotions on coffee drinks help persuade patrons who may have been put off by the price.
But he doubts coffee will ever supplant tea as the national drink. "Me, I drink four cups of coffee a day," he says. "But my friends mostly don't drink coffee. They don't like the taste."
The history of coffee in Rwanda traces the history of the country itself. The crop was introduced by German and Belgian colonisers after the turn of the 20th century. Under Belgian rule, coffee growing was made compulsory, and Rwandans were forced to cultivate it under brutal conditions.
The industry nearly collapsed after the 1994 genocide. When the killing stopped, women were left to toil the verdant plantations devastated by hundreds of thousands of deaths.
President Paul Kagame recognised that coffee could help to revive the economy. He instituted a series of policy changes, liberalising trade and partnering with the US Agency for International Development to develop higher-grade, speciality coffee.
Now the beans from Rwanda's Bourbon arabica trees are coveted worldwide. The improved quality increased demand, especially in Europe and the US, while raising the price farmers can get for their coffee berries. The government has set ambitious goals to expand production with the aim of carving a niche for Rwandan beans in the gourmet coffee market.
As part of a government-sponsored campaign to encourage locals to drink coffee, radio adverts tout its health benefits, while "Made in Rwanda" expos showcase homegrown beans. Hotels and restaurants increasingly serve locally roasted coffee, and cafes host educational seminars and tastings for curious consumers.
This is how Uwajeneza found herself behind the counter at Question Coffee, a breezy cafe and roastery in Kigali that sources its beans from cooperatives run predominantly by female growers. What started as training for a barista job – she desperately needed to save money for college – turned into a passion.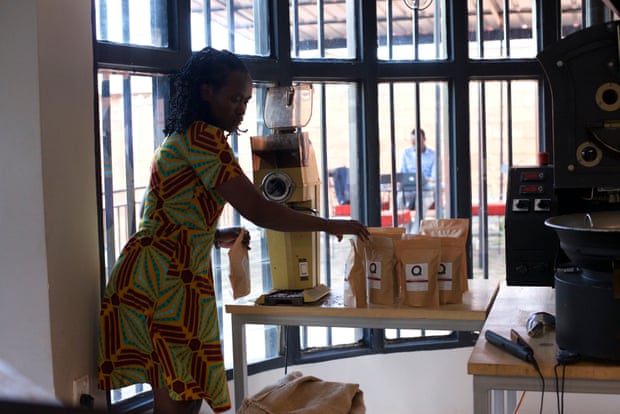 Uwajeneza has helped the shop to come up with creative craft drinks that might appeal to local consumers. "Krest on the rocks" mixes tonic water and cold brew ice cubes. She's also experimented with Fanta, African tea, tree tomato and passion fruit, with varying degrees of success. The cafe's biggest flop was an attempt to create pumpkin-spiced coffee.
Uwajeneza says coffee drinking has become a status symbol, a sign of sophistication among the country's urban professionals.
"It's is like a compliment here in Rwanda," she says. "For example, you grew up in a rural area and you happen to get a nice job in the city. You become smarter, you start to wear nicer clothes, go to fancy restaurants. Then you start to take coffee, when before you didn't take coffee because it was expensive."
On a Sunday afternoon, at Shokola, a trendy cafe above Kigali's public library, André Ndikumana, a banker in his mid-30s, sits alone at a table, flicking through a document on his laptop. Rain slaps against the window panes and blurs the view of Kigali's rolling hills below.
Ndikumana says he now enjoys the taste of coffee, though he didn't before. At home, he is the only one who drinks the beverage, which his wife compares to a drug. On weekends, he likes to indulge his caffeine habit while relaxing at a cafe.
However, facing a strenuous week at work and a stretch of gloomy weather, he has opted instead for the comfort of a cup of tea.
This story was amended on 29 January 2018 to correct the spelling of Smayah Uwajeneza's name