Reporting
How did Tijuana become Mexico's go-to foodie city?
Drug wars weren't the only thing to take their toll on the border town of Tijuana, but next-generation entrepreneurs who left are now returning to create Mexico's new foodie mecca.
"Seriously, where are the fish tacos?"
It's 4pm on a Friday afternoon at the end of July, and we're wrapping up on our tour of social businesses in Tijuana, Mexico. It's the second annual 'Startup Crawl', which brings together 65 entrepreneurs, investors and other interested parties, mostly from Southern California, to the largest border city on the US-Mexico border.
The tour was meant to highlight entrepreneurship and social innovation in Tijuana, which, as everyone had been telling me during my two weeks in Baja California, is "taking off." And today, I wanted to see it for myself.
We had visited tech start-ups, art spaces, and a call center that employs a handful of deportees. But we also visited several food and drink start-ups in a city increasingly known for its food scene. Given that tacos are (for better or worse) Mexico's most famous culinary export to its northern neighbor—and the fish-filled variety originate in Baja—the question about fish tacos felt like a legitimate one.
A week earlier, I'd sampled fish tacos, tostadas, and clamato cocktails (similar to a Bloody Mary but with clam juice) at Telefonica Gastro Park, the three-year-old hipster food hangout that had recently re-opened in an old warehouse in the industrial Zona Rio. While the previous iteration had been more focused on the food trucks, the revamped version is more food hall, and centered around an in-house brewery, (the brewery was still under construction when we visited.)
"In the absence of tourists, we made this for Tijuanenses."

Antonio Gamboa, Gastro Park
In the outdoor seating area, surrounded by food trucks and tiny succulents in reclaimed beer bottles, I chatted with the gastro park's co-owner Antonio Gamboa about Tijuana's new status as a foodie mecca.

The new Tijuana, he said, was a generational thing: Talented millennial Tijuanenses, many of whom were returning to the city after time away, were making the city into one that they wanted to live in.
As if to prove his point, our conversation was frequently interrupted as Gamboa greeted his clients. It seemed like all of Tijuana's young movers and shakers were parading past to try out the new location: Artists and entrepreneurs, up-and-coming chefs, even policymakers. That, he added, was also part of the magic of Telefonica: That anyone could bond over the casual street food on offer.

In between the (welcome) interruptions, Gamboa told me that the drug violence of 2007-2008 had, indirectly at least, actually helped fuel the growth of Tijuana's food scene. In the absence of tourists, he says, "We made this"—he nodded towards his growing food empire—"for Tijuanenses."

Lack of tourists had already been a problem. September 11th had literally shut down the border, and in the years that followed, just as tourist numbers began creeping back up, the global financial crisis and the drug violence hit Tijuana—sending those numbers plummeting again.

But during that period of crisis, a new regional cuisine developed.
A brief history of food (and drink) in Tijuana
Founded in 1889, Tijuana has historically been defined by its neighbor to the north. The city's current direction began taking shape in the 1920s, during Prohibition, when visitors from the north streamed south, in search of an escape from buttoned-up Prohibition-era America.

They found it here, in the new establishments catering to their quest for booze and vice, especially on Avenida Revolución in the historic downtown area. And even after Prohibition was lifted, Tijuana's status as a southern Las Vegas continued.
'Baja Med' put Tijuana onto culinary maps, and gave pride and identity to a city that had lacked both.
Food was not a focal point during this time—understandably—and the few upscale restaurants offered international, rather than Mexican, fare. The most notable of these was Caesar's, the birthplace of the original Caesar Salad, which even pioneering American chef and author Julia Child sampled during her childhood visit.

Today, the restaurant and the namesake salad are still open and available, in the same spot on Revolución. Now the same street is also home to Tijuana's new breed of enterprises, such as Cine Tonalá Tijuana, a restaurant, cocktail bar, and art-house theater, a go-to hangout for the city's culture kids.
Over the years though, Mexican food has gradually found a place alongside international offerings. In 1960, another famous visitor, then-Vice President Richard Nixon, notably sampled Mexican cuisine but drank German beer.

While this was a step forward for the development of Tijuana's food scene, if that had been now, it could have been Mexican food and Mexican craft beers. Perhaps he'd have enjoyed a beverage at popular craft brewery Insurgente Tap Room. Or, for a less hipster option, at Dandy Del Sur, a typical Mexican cantina patronized by everybody from Manu Chao to Gael Garcia Bernal (when they're in town) to the most casually dressed punter—as long as they can survive without craft brews.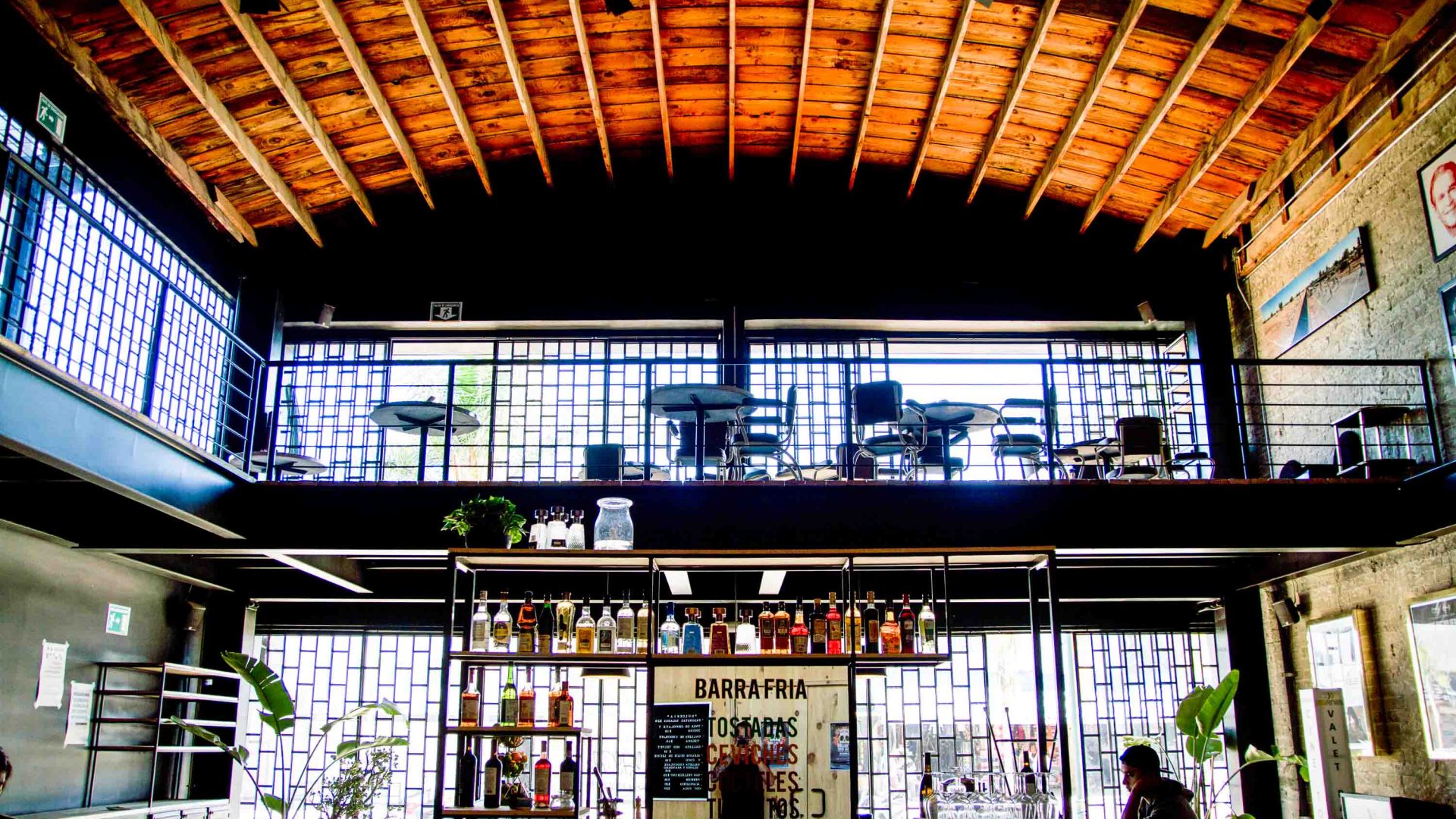 Baja Med: Creating identity through food
The real turning point for local cuisine came in the early 2000s, when drastically decreased tourist numbers combined with a slew of Tijuanense chefs experimenting with a new cuisine. One that drew from Baja California's temperate, Mediterranean-like climate, location on the Pacific Ocean, and history of

Miguel Ángel Guerrero was one of the founders of this new movement, which he called "Baja Med" —in fact, he trademarked the term in 2013. Drawing on the unique characteristics of Tijuana and Baja California, Baja Med is a fusion of Mexican, Mediterranean, and Asian. It put Tijuana on culinary maps, and gave pride and identity to a city that had lacked both.

His own restaurant, La Querencia which opened in 2001, is characteristic of Baja Med cooking: Unique flavors and fresh local ingredients, with everything sourced from within Baja California. Try the carpaccios (options include scallop, beet, salmon, and squash) and the octopus, especially the Pulpo Querencia, a simple, delicious octopus tostada.
Another example is Mision 19, the fine-dining establishment of local celebrity chef and the other face of Baja Med, Javier Placencia. He combines locally sourced ingredients—from within a three-hour radius of the restaurant—with the latest culinary techniques, like molecular cooking and sous vide. Try the seasonal tasting menu or if you opt for à la carte, order the signature scallop parfait.

And if you really just want a fish taco, La Corriente Cevicheria Naishas possibly the best fish in Tijuana. This kitschy restaurant just off of the main drag of Avenida Revolución is famous for its red snapper tostada and 'Taco Kalifornia,' a shrimp taco with hot Anaheim chilli peppers.

Back at Telefonica Gastro Park, a more casual inheritor of the Baja Med tradition, and the pride it brings, Antonio Gamboa summed up his city's cuisine: "I'm a native of Tijuana, and I admit that it's not the prettiest place—but now, people come here to eat."