Reporting
'Our country is not a safe place': why Salvadorans will still head for the US
Poverty and gang violence are driving an exodus, regardless of US asylum reforms
Outside the migrants' attention centre in San Salvador, 19-year-old Berenice Cruz's eyes dart around nervously before she whispers that she had fled El Salvador "because of the crime". Nearly all her family in the east of the country belong to a gang, she says, but she refuses to get involved. The gang threatened to kill her, so she attempted the perilous journey to Reno, Nevada, in the US, where an aunt lives and where sanctuary lies. She failed.
"If I go back to where I live, they'll kill me," she says, shortly after arriving back in her home country from a detention centre in McAllen, Texas, where she was held after crossing the border. She is one of 11,748 Salvadorans deported from the US and Mexico since the start of 2018.
Migrants have been under relentless attack since Donald Trump began his run for office. The US authorities' policy of separating children from their families in the name of a "zero tolerance" immigration strategy sparked outrage last week from Washington DC to San Salvador, and Trump was eventually forced to back down with an executive order which critics say still does not go far enough. But his policy continues to ignore the difficult realities of thousands of migrants fleeing violence and misery in the so-called Northern Triangle, the Central American countries of El Salvador, Guatemala and Honduras plagued by corruption, gang crime and impunity.
"They declare [El Salvador] the most violent country in the world, but then say they won't give us refuge, asylum, or any kind of protection for reasons of violence," said Aquiles Magaña, secretary of the National Council for the Protection and Development of Migrant People, known as Conmigrantes, criticising Trump's "drastic change" in asylum policies as hostile, racist and contradictory.
El Salvador's murder rate fell last year compared with 2015 and 2016, but it was still soaring at more than 10 homicides a day on average in 2017 in a country of six million. It remains one of the deadliest countries in the world outside war zones. Turf wars between rival gangs drive violence and perpetuate inequality and insecurity. These gangs were born in Los Angeles and transported to the streets of El Salvador amid mass deportations in the mid-1990s of migrants who fled the country's 12-year civil war. Unsurprisingly, nine out of 10 families with children in El Salvador hope to migrate in the future.
Iris Martinez, 40, left El Salvador two weeks ago, intending to escape gang intimidation after witnessing a murder two years ago. "I always received threats," she says after getting off a bus of 35 deportees held in Mexico. She plans to make the trek again, this time with documents to request asylum, to be reunited with one of her three children who is already in the US.
Cases like Martinez's face even greater uncertainty after the US attorney general, Jeff Sessions, ordered immigration judges earlier this month to deny asylum in most instances of gang and domestic violence.
On a recent Friday afternoon, 93 deportees arrived in El Salvador from the US. Some had lived there for years or decades. Others were caught immediately on crossing the border. Once in El Salvador, the deportees were greeted with a smile from government workers, an orange juice and a sandwich before being interviewed by officials and heading off with all their belongings in a small red drawstring bag.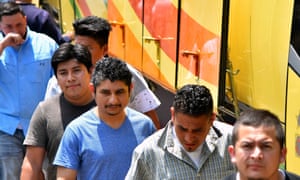 But returning to their home districts is not so easy. The near unanimous consensus among deportees at the centre is that Trump's policies will not stop migrants from heading north. "Prosecuting asylum seekers for crossing the border, detaining families seeking protection and limiting the standards to win asylum are cruel and inhumane and ignore the conditions that are leading many central American women, children and families to flee their communities in search of safety," said Adriana Beltrán, of the Washington Office on Latin America.
According to 2016 government statistics, nearly three-quarters of deported adults cited economic factors as their reason for leaving the country, where more than a third of the population lives in poverty. Reasons for deported children were split almost evenly between economic motives, insecurity and family reunification.
Tessie Borden, spokeswoman for a Los Angeles-based organisation, Clergy and Laity United for Economic Justice, challenged rigid distinctions that cast economic reasons for migration as less valid than security concerns. "These factors are all connected," she said. "The kind of lives these people live are not lives in which they have many options to begin with."
Josué, 18, another returnee to El Salvador, went to the US with his mother when he was seven, seeking "a better future". He says he plans to try to cross the border again as soon as possible, hoping to make it in time for the birth of his second child in July. He is more worried about being in El Salvador than about Trump's immigration policies. "This is not a safe place," he says, switching from Spanish to English. "Being young here is a crime."
Youth are particularly vulnerable to gang threats and violence, which are the driving forces of their displacement in El Salvador, according to a report from the human rights organisation Cristosal.
Beltran said: "Many victims of violence find no protection from the authorities," she said. "In fact, many fear the police as much as the criminals."
Another young man, Enrique Valle, 29, recently returned to El Salvador from Los Angeles. He calls his country "beautiful" but says "there are some places where you can't go, especially as a young man."
Valle's father was murdered by gang members six years ago when he missed the extortion payment for his bakery. Extortion is widespread in El Salvador, affecting nine out of 10 small businesses, according to the National Council of Small Business of El Salvador. Facing gang threats, Valle fled. In El Salvador, he says, there's no future for him – or the two-year-old son he left in Los Angeles. Spending more than a few days with his only brother in their home district plagued by warring gangs is too dangerous, so Valle will head north again shortly. "I don't know if I'll be able to cross again," he said. "But I'm going to try again for my son and my mother. You can't live here with the way the situation is."
Reporting for this article was funded in part by a fellowship from the International Women's Media Foundation