Reporting
Rampant corruption in Tanzania keeps fruits of the many in hands of the few
In Dar es Salaam, framed posters of Tanzania's president, Jakaya Kikwete, top the list of street-side bestsellers, outstripping images of Pope Francis, Jesus, Barack Obama and the country's founding father, Julius Nyerere.
It is no real surprise given that all government offices are expected to have a picture of the president hanging prominently on the walls.
However, in this peaceful yet poor east African nation, poster seller Yanga Idrissa says that if he wants to get his Kikwete posters on official walls, a certain degree of sharp practice is required. He must be ready to undercut competitors, and bribe officials – and falsify receipts on their behalf – enabling them to claim bogus expenses. Even when selling to a police station.
"They say I have to sell them for 30,000 shillings (£9.59), but make the receipt out for 45,000 so that 15,000 goes to the police," says Idrissa who, like many Tanzanians interviewed on the street, initially demands cash to answer questions.
In 2013, Tanzania was the second biggest recipient of foreign aid in sub-Saharan Africa, receiving $3.43bn (£2.19m) from donors. Despite years of relative peace, and economic growth of more than 5% annually for the past decade, around two-thirds of its nearly 49 million people still live in poverty.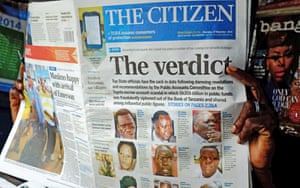 Tanzania has been slipping down Transparency International's corruption perceptions index, and now ranks 119th out of 175 countries. Evidence of official corruption has been mounting, raising fears that natural gas riches will fail to translate into wider wealth. That is not good news for a country ranked 159th out of 187 in the human development index.
Late last year, donors suspended $490m in general budget support after it was revealed that ministers had siphoned up to $180m from the central bank, using energy company escrow accounts.
"When this came out, people were watching it like the World Cup final. And now, people know how dirty and corrupt their leaders are," said one international analyst, who did not want to be named for fear of retaliation for speaking out.
Tanzanians are due to elect a new president and parliament in October and the combination of entrenched corruption and an increasingly repressive environment for activists and civil society has worried many analysts. The Chama Cha Mapinduzi (CCM) party has ruled the country since independence in 1961.
"It's like a supermarket where 60% of the goods are stolen but no one knows anything about it and everyone's kept on," said an international conservationist, who has previously received anonymous threats for speaking out about rampant poaching.
The corruption is endemic: a government census released in June showed that Tanzania is at the centre of Africa's ivory crisis, losing 60% of its elephants in just five years. Between 2009 and 2014 the number of elephants dropped from 109,051 to 43,330. When an annual birth rate of 5% is taken into account, the number of dead is 85,181.
Tourism is Tanzania's biggest foreign exchange earner, although discoveries of natural gas off its south coast could prove lucrative from about 2025.
"My biggest worry is going the Nigerian way, whereby very few people become rich and the majority remain as poor as they were before," says Zitto Kabwe, an opposition politician and former chair of the parliamentary committee on public accounts.
Kabwe is concerned about "the lack of institutions to curb corruption", and a petroleum act recently rushed through parliament after opposition members were suspended.
Home affairs minister Mathias Chikawe acknowledges corruption is a big problem.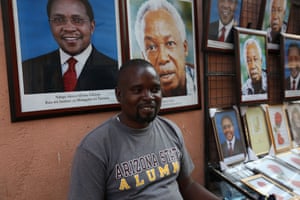 "Corruption makes people close their eyes when they should keep them open. We need to fight that more than anything else because it's making efforts in other sectors fail," he said.
Officially, efforts are being made to stamp out graft. One of Dar es Salaam's most impressive buildings is the headquarters of the anti-corruption agency, the Prevention and Combating of Corruption Bureau (PCCB).
"This building cost the government to the tune of 4bn shillings," said PCCB director general Edward Hoseah just after a ceremony marking the donation of computers from China. The computers were worth almost as much as the building, and PCCB staff said they already had enough machines.
But Hoseah noted that the UK's Serious Fraud Office and the US Federal Bureau of Investigations also had good facilities.
"If you want to captivate your staff, to motivate, give them the best, and the government has given us the best, and I think it must be applauded," he said.
The expensive 4x4s clogging the car park were also "irrelevant" as the bureau was "making progress", he added.
One local journalist, who said the PCCB paid him 20,000 shillings for a "transportation fee" to come to the ceremony – double what editors would pay for any story – said that it was near impossible to extract information from the bureau.
He said he could only get comments if he first got sources in the government to tip him off, so that he could ask very specific questions.
"If you face them with facts, then they have to open their mouths," he said.
Hoseah said that, unlike journalists, it was not his job to go public during investigations.
A PCCB press officer later threatened a fixer for three international journalists with jail if "damaging stories" appeared. She called the journalists spies.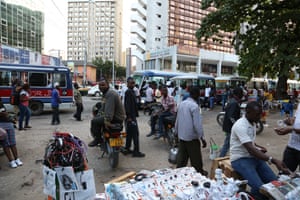 Semkae Kilonzo, who runs Tanzania's Policy Forum, says that high-level officials tend to remain immune from any prosecution, while anti-corruption efforts focus on less powerful district officers.
"The PCCB has officers all over the country who are chasing down doctors and nurses for taking bribes and it's shameful," said the international analyst.
Impunity even for "repeat offenders" sends a message "that it is risk-free to misappropriate public funds on a huge scale and the state has no moral authority to caution against wrongdoing", said Kilonzo, adding that the public was increasingly offended by corruption but had not yet organised to take action.
Back at the PCCB, the journalist who was paid to attend the ceremony seems resigned to the country's fate.
"Before gas, we had diamonds, we had gold, we had tanzanite, but what did we get out of that?" he asks, while waiting for a shared lift with other reporters lest a taxi fare should cut in to his anti-corruption "attendance fee".
Topics