Reporting
U.N.-Funded Peacekeepers in CAR are Accused of Murder and Rape
BANGUI, Central African Republic – It was just after sunset when 9-year-old Aabirah went to get water from a well near her home. Her neighborhood in Bangui, the capital of the Central African Republic, was secured from local armed groups by Burundian peacekeepers and there was a reliable pump near the base where residents often went for fresh water. As she finished drawing water, a Burundian captain she recognized called her over.
The next morning, her father told local health workers that Aabirah was weeping when she returned to the house. The captain had raped her and her skirt was covered in blood.
Burundi's government and military are under investigation by the International Criminal Court for alleged crimes against humanity stemming from a 2015 political crisis within the country's own borders. Yet despite facing accusations of unlawful killings, rapes, and other grave human rights violations, Burundian troops are deployed across CAR as part of the U.N. peacekeeping mission (also known as MINUSCA) that is expected to protect civilians.
Instead, these soldiers have continued their abuses in CAR. Since 2015, the U.N. Department of Peacekeeping Operations has documented 10 allegations against Burundian peacekeepers working in CAR, including seven cases of sexual exploitation and rape. Local activists say the actual number of incidents is considerably higher.
Allegations of abuse and sexual exploitation are in no way limited to Burundian peacekeepers; abuse scandals have plagued the 14,000-strong international peacekeeping mission in CAR since the start of operations in 2014. But the Burundian troops' controversial inclusion in the mission raises questions about how invested the Western countries funding the mission are in bringing CAR's crisis to an end.
"The European Union and the United States turn a blind eye to the human rights violations."
Namely, victims and human rights monitors want to know why the international community condemns Burundi and its forces at home while using them as peacekeepers abroad.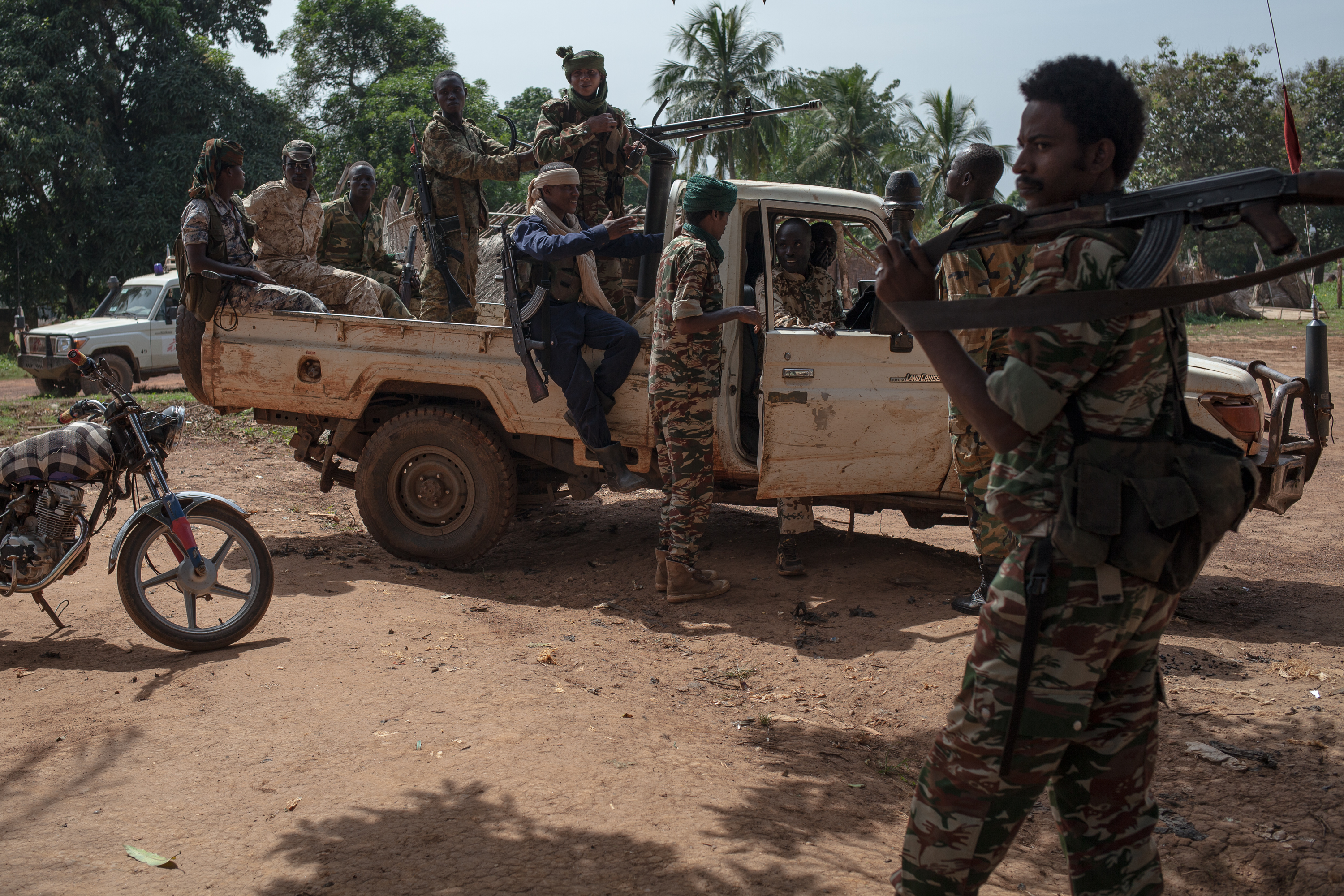 Bangui has enjoyed relative stability since an inter-religious conflict came to a tenuous end in 2015. But the rest of CAR remains largely engulfed in violence brought on by warring armed groups and opportunistic militias looking to profit from the country's vast resources, namely gold, diamonds, and cattle. The conflict has morphed from what was once characterized as clashes between Muslim and Christian armed groups to a battleground of at least 14 different armed groups terrorizing civilians for their own enrichment.
Today, more than 1 in 4 Central Africans are either internally displaced or refugees, and over half the population is in need of humanitarian assistance. Given the vacuum left by a weak central government with a depleted military, CAR's population has come to rely almost entirely on U.N. peacekeepers to provide security and contain fighting that has overtaken whole swaths of the countryside.
Read: Inside the brutal war that's ripping apart the Central African Republic
The Burundian troops have a positive reputation for their tactical peacekeeping operations in CAR. Teddy Mazina, a prominent human rights activist who fled Burundi in late 2016 due to persecution from the ruling government, says this allows them to get away with flagrant abuses against the local population.
"The European Union and the United States turn a blind eye to the human rights violations, especially when these troops are effective," Mazina said.
"They tied my hands behind my back and shot me"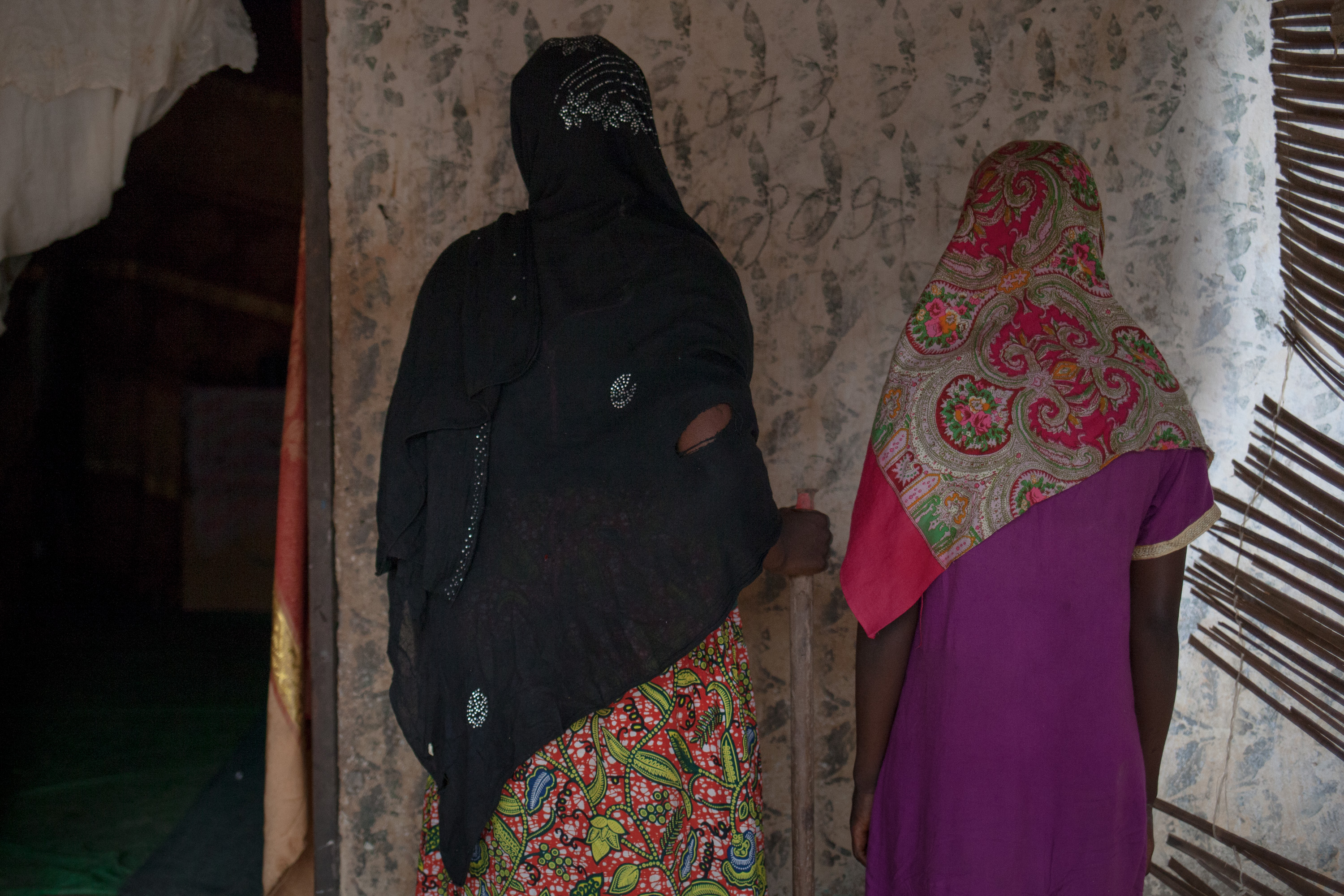 Samira Awal said she was raped by Burundian peacekeepers. She posed for an anonymous portrait with her mother, Aisha Aduum, 34 years old. They use to host Burundians troops for tea and food. (Adrienne Surprenant for VICE News)
U.N. sources say rape and sexual abuses are the most common complaints filed against peacekeepers in CAR. But the allegations against Burundian peacekeepers are not limited to sexual violence.
VICE News met with eight alleged victims of Burundian peacekeepers in Bangui, including four victims of gunshot wounds, torture, and extrajudicial detentions. We also spoke with the family members of one young man accidentally killed by Burundian peacekeepers and the family of a teenage girl forcibly impregnated by another Burundian soldier. Both families say they have not yet filed a claim with the U.N. because of fear of retribution or a lack of trust in the system.
Mahamat, 21, lived near Yakite Bridge in Bangui, close to a Burundian base and the site of many clashes between Muslim and Christian armed groups during the sectarian conflict. He said he was protecting what remains of his house when fighting broke out and the Burundian contingent provided reinforcement for Central African troops. Mahamat said Burundian soldiers killed two of his friends, both unarmed, on the spot before they took him back to their base. He detailed his capture and torture slowly, taking time to point out each of the seven bullet wounds that have left knotty scars from his head to his abdomen.
"They tied my hands behind my back. They took me to their base and their commander ordered them to shoot me. They put me on the floor and shot me twice in my hand and another one here, here, and here," he said, pointing to wounds on his skull and upper back.
He believes the Burundian peacekeepers thought he was a member of an armed group. After they shot him, "They threw me in the grasses behind the base," he said. "I was there three days unconscious before my friends found me. They did this without any proof or evidence."
Local human rights advocate Malik Karoumchi can repeat the details of Mahamat's story and the stories of many others victims with startling recall. He works with a network of Muslim Central African organizations and heads up a "listening center" for victims of human rights violations committed by armed groups and peacekeepers since the crisis broke out in Bangui in 2013.
Portrait of Mahamat Ali, who was shot multiple times by Burundians peacekeepers, in the PK5 district of Bangui. (Adrienne Surprenant for VICE News.)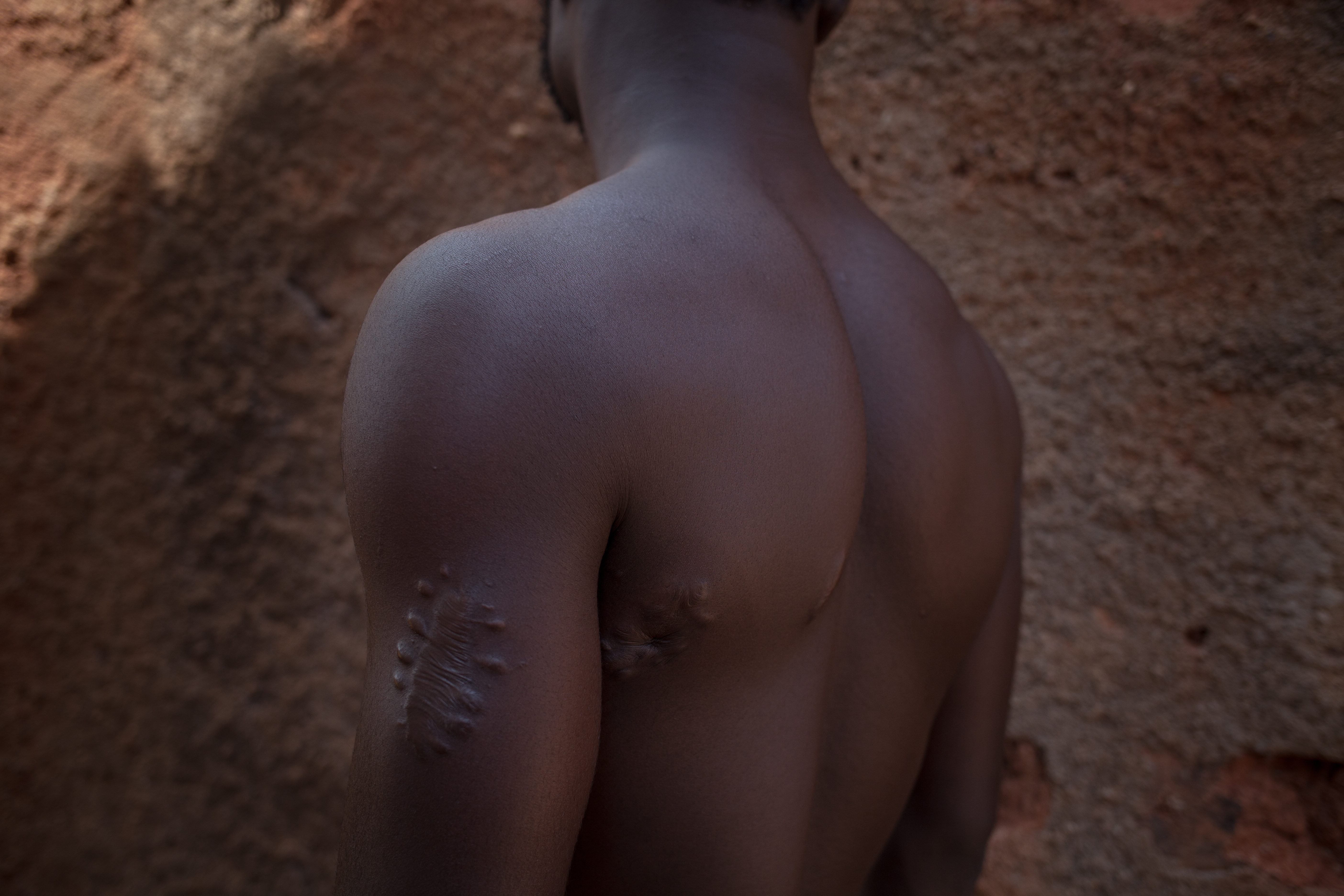 He has documented 17 cases of abuse by Burundian soldiers that allegedly occurred between 2013 and 2018. The captain said to have raped Aabirah figures regularly in victim testimonies, he said.
"He was known by everyone. He is a terrible guy," Malik told VICE News. "His behavior is not like a trained military man."
The captain finished his deployment in MINUSCA and returned to Burundi, but not before he allegedly tortured several young men who were protesting in Bangui and ordered the killing of another, according to Malik.
"That guy must be punished, judged for all those victims. We are not accusing all of them, but he tortured and gave orders to kill," he said. "And then this little girl he himself raped. You know what she needs? Justice."
Sources in the Burundian government who spoke on the condition of anonymity for fear of retaliation said no investigations have been opened into any of the alleged abuses, despite multiple official recommendations from the U.N.
U.N. officials stressed that they can only refer a case to the contributing country for an investigation when it is actually reported. Malik and other grassroots activists say awareness campaigns about reporting violations and overall engagement from MINUSCA on the ground have been slow.
Enabling a crisis back home
The Burundian army was once known in the region to be a disciplined fighting force. Burundians have been trained by the U.S. to serve in foreign missions, aiding African Union troops in the fight against al-Shabaab in Somalia since 2011 and in Central African Republic since 2014.
Then in 2015, the nation of over 10 million plunged into unrest when President Pierre Nkurunziza circumvented constitutional term limits to win a third term in office. Throughout the crisis, defections and a push by the government to promote regime loyalists led to the degradation of Burundi's army. Soldiers attacked civilians and carried out assassinations. Rape, torture, and forced disappearances were also reported during the military crackdown.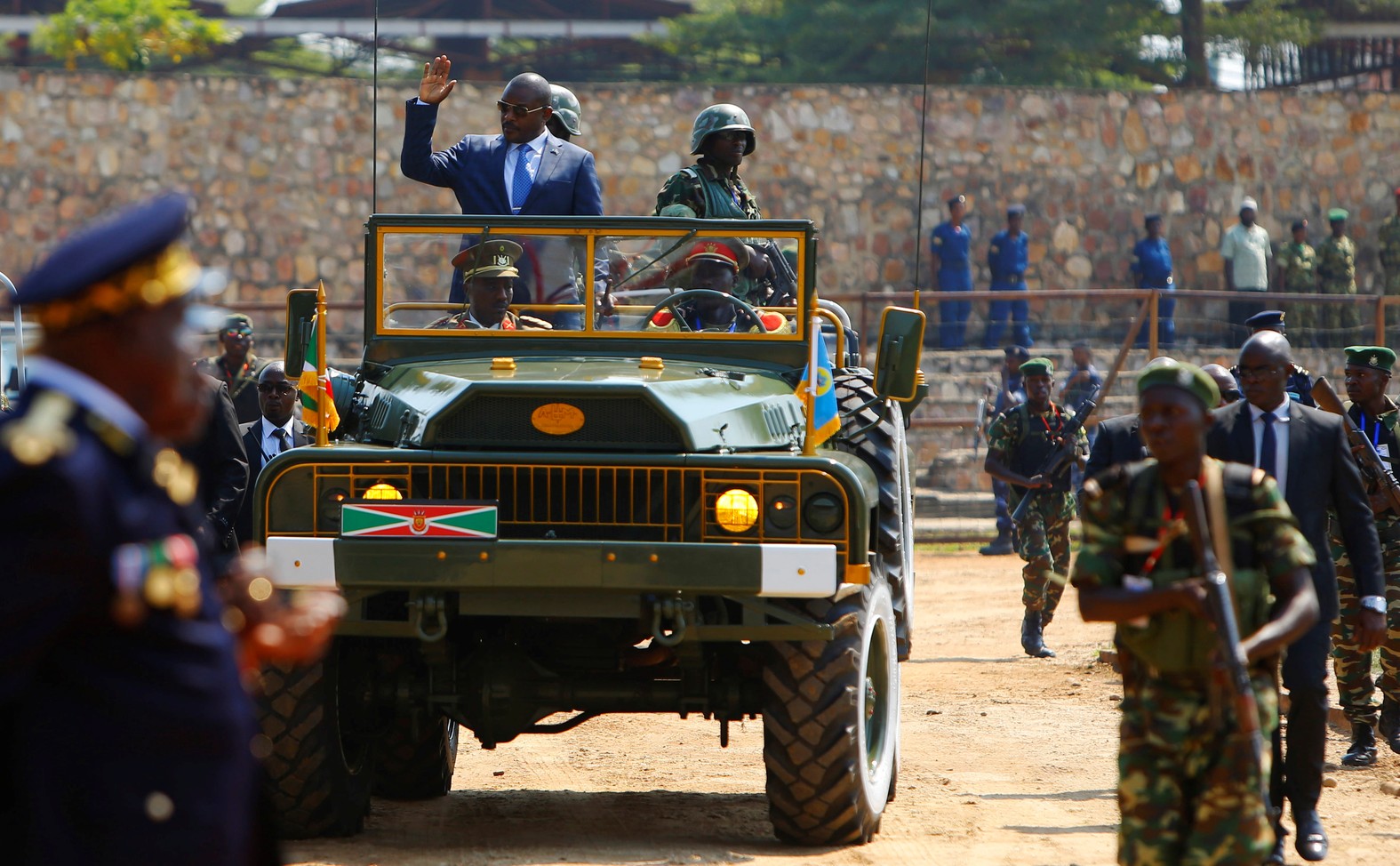 Burundi's President Pierre Nkurunziza waves as he arrives for the celebrations to mark Burundi's 55th anniversary of the independence at the Prince Louis Rwagasore stadium in Bujumbura, Burundi July 1, 2017. (REUTERS/Evrard Ngendakumana).
When the world learned of mass arrests and mass graves in early 2016, both the United States and the European Union withdrew funding for Burundi's military. In a statement announcing the withdrawal of funding, the U.S. State Department warned that ongoing human rights violations could "hamper our ability to support the important contribution of the Burundian military to international peacekeeping."
And though Burundi was rebuked by the U.N. for brazenly trying to send high-ranking, known human rights violators to the peacekeeping mission in CAR during the crackdown, the international response hasn't held up. And Burundi continues to receive critical international funding through its contributions to U.N. peacekeeping missions in Africa.
Analysts say this sort of backdoor funding, along with half-hearted statements of concern from the East African community, is a symptom of a larger dynamic that has enabled the Burundian regime's survival. As Burundi enters a third year of political turmoil, Nkurunziza is relying on that international waffling to tighten his grip on power through a prolonged crackdown on human rights that has featured targeting killings, disappearances, and unlawful arrests.
"They know that their money will feed a criminal regime. It serves to kill innocents in Burundi."
On May 17 Burundi opened polls for a controversial referendum that could result in Nkurunziza remaining president until 2034.
For activists back home in Burundi, the bigger issue is that Nkurunziza's government stays afloat thanks in no small part to money earned by contributing troops to MINUSCA in CAR and AMISOM in Somalia. Both missions are primarily funded by contributions made by the U.S. and EU member states, who have issued public statements and acknowledged privately to VICE News that they are acutely aware of the crisis of human rights violations and rampant impunity that persists in Burundi.
"We continue to review all assistance to Burundi in light of the overall political and security situation in that country. We are in regular communication with the government of Burundi on these matters," the source added.
Yet payments from the peacekeeping operations continue to flow directly to Nkurunziza's government, and several current and former soldiers told VICE News the money staying there instead of being paid out.
"In the U.N. system, a contributing country could in theory keep all the money," Paul D. Williams, professor at George Washington University, said.
In one of the world's poorest countries, isolated from international investors and donors, these funds play an outsize role, Williams said.
"Nkurunziza's regime would lose an important source of foreign exchange and international leverage if its peacekeepers left AMISOM and MINUSCA," he explained.
For Mazina, the Burundian activist in exile, the international community's calculus is clear:
"They know that their money will feed a criminal regime. It serves to kill innocents in Burundi."
——
Cover image: A Burundian peacekeeper poses for a picture on their base in Bangui, CAR. (Adrienne Surprenant for VICE News)
Julia Steers is an East Africa-based journalist and producer covering politics and human rights. Reporting for this story was supported by the International Women's Media Foundation. Eloge Willy Kaneza contributed to this report.