Reporting
When families are divided by the US-Mexico border, deportation
Emma Sanchez Paulsen perches on the windowsill in her cramped bedroom and looks out at the vast US-Mexican border wall that undulates with the hills in the distance.
A mother of three US citizens and the wife of a US Marine Corps veteran, Ms. Sanchez Paulsen was barred from the United States for 10 years starting in 2006, when she and her husband were processing her visa paperwork. A decade is the typical punishment for entering the country illegally, which the Mexico native had done more than five years earlier. Her marriage to a US citizen couldn't overcome the stain of her illegal entry, which is a decision that has haunted her – and torn her family in two – for most of her young children's lives.
"Seeing the wall every day, it's a comfort," Sanchez Paulsen says, despite the tears streaming down her cheeks. "It reminds me my family is just over there. So close, I can almost touch my kids."
The US has deported roughly 2.5 million people over the past eight years – a record. That's a 23 percent increase over the previous administration. Despite a stated priority to largely focus on criminals, the government cast a wide net starting in 2008.
"Suddenly the focus wasn't just on people near the border or people trying to cross, but [unauthorized immigrants] in the interior of the United States, who may have had years or decades of living there – established lives, with kids," and no criminal record, says Alejandra Castañeda, coordinator for the Observatory on Immigration Legislation and Policies at the College of the Northern Border (COLEF) in Tijuana, Mexico.
By 2010, observers say they had begun seeing an uptick in parents like Sanchez Paulsen being deported. They have created a trail of separated families, with US-citizen children or so-called DREAMers, protected from deportation by Deferred Action for Childhood Arrivals (DACA), living without one or both parents.
These parents are quick to recognize they broke the law. But beyond the legal issues, the realities of deportation leave many families in a difficult position.
The long-term implications are plenty, experts say, from the psychological to the economic. Kids can get caught up in surprising ways, including US-born children who try to join their deported parents abroad being denied access to basic public services.
As the US Supreme Court decides a case dealing with President Obama's executive action on immigration – which included measures to extend DACA and to keep families like Sanchez Paulsen's together through a program that would give an estimated 3.6 million eligible parents deportation protection – a group of deported mothers and a handful of fathers here are taking action. Known as the Madres Soñadoras, or the DREAMers Moms of Tijuana, these parents are providing emotional support, legal advice, and other resources to mothers and fathers enduring the same desperation, self-blame, and never-ending questions about "what next."
The hope is to find a way toward family reunification and to draw attention to how deportations and subsequent separations affect families on both sides of the border.
But there are many who say keeping families together isn't the job of the US government. "Immigrants themselves are splitting up their families," says Mark Krikorian, executive director of the Center for Immigration Studies in Washington. Someone who enters the country illegally "shouldn't win the lottery" just because he or she has a child in the US, he says.
"At first, when I was deported, I thought about going back undocumented," says Yolanda Varona, co-director of the DREAMers Moms in Tijuana, who has two adult children in San Diego. "I thought, 'I don't care: I'll walk a desert, I'll cross a river, I'll climb a wall. Anything to be with my kids.' " But her daughter and son pleaded with her, afraid she'd die in an attempt to return.
"They helped me realize I'm worth more alive. I can fight for myself and for more people in Mexico. Now I'm investigating, advocating, talking to lawyers, trying to find a legal way home – back together – for all of us."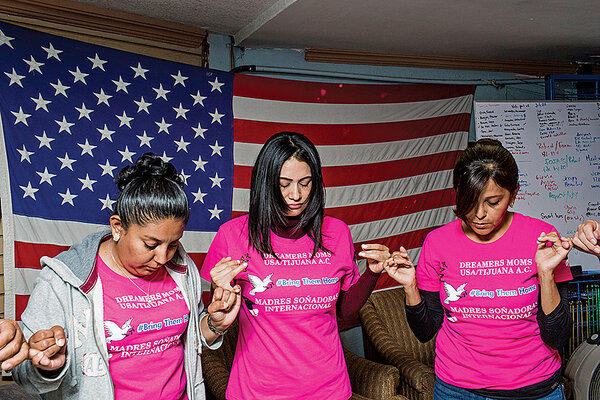 NATALIE KEYSSAR/SPECIAL TO THE CHRISTIAN SCIENCE MONITOR
'Help us withstand this test'
Against the backdrop of a large American flag and some overstuffed chairs, Ms. Varona kicks off a recent Wednesday night meeting of the DREAMers Moms. The four women and two men in attendance stand in a circle, linking pinkie fingers. The gesture symbolizes the only way family members can touch one another through the small holes in the US-Mexican border wall in Tijuana's Friendship Park, a space open for a fleeting glimpse of loved ones on weekends.
"We ask you to protect our children, to hug and hold them for us," Varona says, leading the group in an opening prayer. "Help us withstand this test."
It's the test of a lifetime for the roughly 50 parents who make up the DREAMers Moms organization here. And there are plenty of others like them: Between 740,000 and 925,000 parents of US-citizen children were deported, mostly to Mexico and Central America, between 2003 and 2013, according to a recent report by the Urban Institute and the Migration Policy Institute.
When Varona founded the group in 2014, she wasn't sure what it would do. She says she'd been coasting listlessly post-deportation. She had spent almost two decades on tourist visas in San Diego, managing fast-food restaurants and living a life free of the violence and economic instability that beset her youth in Guerrero, Mexico. When she was detained and in 2010 deported after Border Patrol noticed the incongruence of her tourist visa and a vehicle registered in California in her name, she felt her world turn upside down.
"I just remember sleeping and crying," she says of her first few days back in Mexico. Like most deportees, she received no support from the Mexican government, such as a place to stay or guidance on how to apply for an ID card that is vital for a job. She spent her first few nights at a bare-bones shelter where she slept on a concrete slab.
"I just looked at the ceiling and tried to remember if I kissed or hugged my daughter the last time I saw her," she says.
Her deportation "devastated" her family, Varona says. Her ex-husband was no longer in the picture; her daughter had to drop out of school, was briefly homeless, and lost custody of her own child in the aftermath.
The sense of guilt at the DREAMers Moms meeting is palpable. Although many here were brought to the US as kids themselves, the weight of developments since their deportations is carried on their shoulders.
"It wasn't worth it. I tell this to any parent considering going to the US," says Varona. "The American dream can so quickly become your worst nightmare."
In its 2-1/2 years, the group has found its purpose. On the most basic level, it's about support and offering a space for parents to grieve – and identify a path forward.
"All parents have hard moments in life," says Maria de la Luz Montalvo, who has seen her youngest daughters only once in the five years since her deportation. Her US-citizen husband has barred her from speaking to them on the phone, and his history of threats to call Border Patrol makes her think he played a role in her expulsion.
"Maybe for us, further from our kids, things are particularly tough. But I've come to realize there is always a solution. You have to fight for it," she says. "I want other mothers to know this."
Toward that end, members of the DREAMers Moms visit women's shelters and host rallies near the border crossing, where they hand out fliers and encourage US voters to cast ballots for candidates who will prioritize immigration reform. They work with churches and undocumented mothers in the US to raise funds for legal fees for separated families or to provide psychological support to children.
The group also visits high schools and colleges here, raising awareness about the myths of deportation and encouraging Mexicans to treat deportees with dignity.
The group petitions the local government and the US consulate, asking them to connect kids in the US or US-citizen children who move here with much-needed resources. In Mexico, US-citizen children often struggle to get access to health care and education. "The Mexican government is treating our kids the way we were treated in the US," Varona says.
But over the past few years, they have witnessed small but important changes. Last June, for example, Mexico stopped requiring transcripts with official stamps to enroll kids in primary school. There is also an increasing awareness about legal protections for unauthorized immigrants who suffer domestic violence on US soil. Three of the four women at the recent meeting share experiences of domestic abuse in the US.
"It's not random," says Ms. Castañeda from COLEF. Many such women may have been too scared to report it because of their immigration status.
"I think I'm adding my grain of sand" toward creating change, says Sanchez Paulsen, who is hoping to apply for a waiver for reentry into the US once her 10-year ban expires this month. "And that's something. Even if change is slow in coming."
NATALIE KEYSSAR/SPECIAL TO THE CHRISTIAN SCIENCE MONITOR
'Why are you in timeout?'
Sanchez Paulsen's children were just babies when she was barred from the US. She and her husband decided the kids should be with her in Mexico – and for a few months it seemed like it might work. But then it came time for one son's vaccinations.
"The government denied him because he didn't have papers. I thought, no. There's no way my kids can stay," she says.
Getting her children to understand why the family lives apart has been a continual challenge. She remembers one of the boys asking her why she was in "timeout" in Mexico for so long. The boys asked Santa to bring Mom home one year, and when her youngest child was about 3, he told her he wanted to cut her up into little pieces.
"I thought, 'He's traumatized. He's going to grow up to be a criminal,' " she says. But then he told her that by doing so, he could put her in his suitcase, take her home, and glue her back together again.
She ended up writing a fairy tale for her kids to read before bed. It's an attempt to explain the family's situation in a way that her sons – now 14, 13, and 10 – can understand.
Sanchez Paulsen says she's one of the "lucky" ones when it comes to separated families. Her family lives just a few hours from Tijuana in Vista, Calif., and she sees her boys almost every weekend.
"But," she says, "I've missed so much…. I'm not there when they're sick, when they need help with their homework, when they get a good grade. I worry so much about what this is doing to them."
For decades, Mexican families splintered between the US and Mexico. In the 1980s, sociologist Gustavo López Castro coined the concept of La casa dividida, or the divided home, to describe migrant families here. Typically, men would head north, while women and children stayed behind. "Sustenance on one side [of the border] and the heart on the other," as Mr. López Castro described it.
But today's phenomenon is distinctly different, says Rafael Alarcón Acosta, who researches international migration as a professor at COLEF. "Migration used to be very circular, temporary, coming and going," Mr. Alarcón says, noting that although there were challenges with an absent parent, rarely was the situation permanent.
With increased border controls in the 1990s, this back-and-forth pattern began to calcify into one-way trips. Families migrated together, fathers would send for their children and spouse, or migrants would simply stay put and build their life in el Norte.
"The possibility of reunification is much more complicated, and that … will leave lasting marks in both countries," Alarcón says.
Varona says her goal is for people "to think about what they would do in our situation." She's had both Mexicans and Americans tell her that what she's suffering is the punishment she deserves.
"That's been very painful for us – that the same moms and dads out there are judging us and aren't thinking about what we are feeling," she says. "I say, 'If you were me, what would you do in my situation?' And they sit and think, and pretty quickly they say 'everything,' " she says.
ρ Reporting in Tijuana was supported by the International Women's Media Foundation.